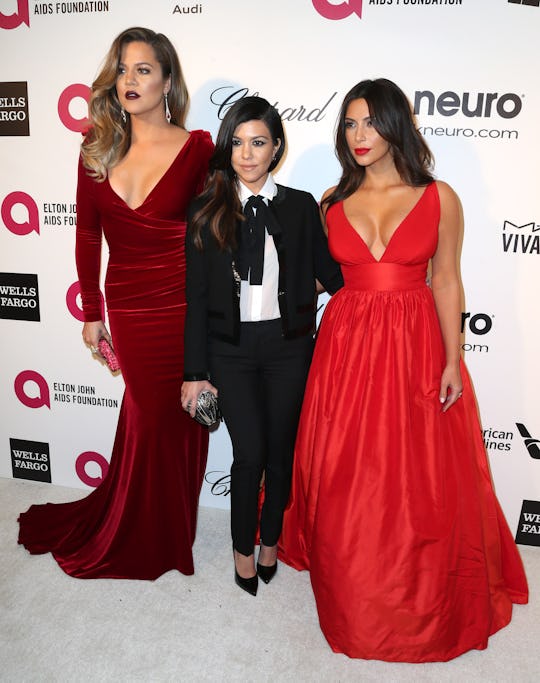 Frederick M. Brown/Getty Images Entertainment/Getty Images
Khloé Kardashian May Be Considering Having Three Kids One Day, Thanks To Kim & Kourtney
As Keeping Up With The Kardashian fans know, Khloé Kardashian is officially a mom, giving birth to her first child, a baby girl named True Thompson, this past spring. But it sounds like there may be more to keep up with when it comes to her plans for more kids down the line. Through an Instagram comment, it was revealed that Khloé Kardashian may be considering having three kids one day, and it's all thanks to her older sisters, Kim and Kourtney Kardashian, who each have adorable families of their own.
Sure, Khloé might have just given birth to her daughter, True, with her boyfriend, Tristan Thompson on April 12, but that doesn't mean that she isn't thinking ahead. In the past three months since giving birth to her daughter, Khloé has had to learn the ways of being a new mom, like going back to work for the first time and having the energy to work out after just having a kid. But based on the posts from her Snapchat, Instagram, and website, she is loving every second of motherhood, no matter how tired or anxious she might be.
So, it really shouldn't come as a surprise to anyone that Khloé is already thinking about possibly having more babies one day — maybe. After Kim posted a photo of herself to Instagram looking absolutely gorgeous, Khloé decided to get in on the comments and give her sister a compliment — one that seemed to indicate that she might want to follow her older sisters' lead in one certain way.
"So I don't get what's happening here — after three kids is there a secret rule that moms get hotter?" Khloé lovingly commented on the above photo, according to People. "You and Kourt are really making me think about the three kid rule."
What Khloé is referring to, of course, is the fact that both Kim and Kourtney have three kids each. Kim is the mom to her 5-year-old daughter North, 2-year-old son Saint, and 5-month-old daughter, Chicago, according to Us Weekly. And Kourtney is the mom to her 8-year-old son, Mason, 5-year-old daughter, Penelope, and 3-year-old son, Reign, according to Us Weekly.
Although Kim and Kourtney may make being a mom of three look easy, they'll be the first to tell you that it's not always so. In fact, just this past May, Kim revealed on her website that being a mom to three young children is a little challenging, especially "when they all need you at the same time and are crying," Kim wrote, according to People. "It can be overwhelming."
Of course, should Khloé decide to have more kids one day, she would definitely be able to rely on her sisters for advice on how to deal with a bunch of little babies running around the house. Especially since both Kourtney and Kim had provided her with plenty of baby advice during her pregnancy, according to Cosmopolitan.
But Khloé might not be needing this advice on how to raise three kids for a while. During an appearance on The Ellen Show earlier this year, while she was pregnant, Khloé said that she isn't trying to rush anything, including having more kids, according to Entertainment Tonight.
Although Khloé hasn't exactly revealed how many kids she wants in the future, there is always the possibility for her to have more. During the season finale of Keeping Up With The Kardashians in March, fans saw Khloé disappointed when she found out that she was having a girl, according to People. "I just was convinced that I was having a boy, so to be having a girl it's just like, 'Okay, that wasn't what I thought was going on," Khloé said. But in the episode Khloé's mom, Kris Jenner, assured her that if she wanted a boy, she could always have more kids until she got her wish. So Khloé could very well do just that and end up with three kids, just like her sisters.
But for now, it certainly seems like Khloé is very, very happy with her one and only baby True in her life.