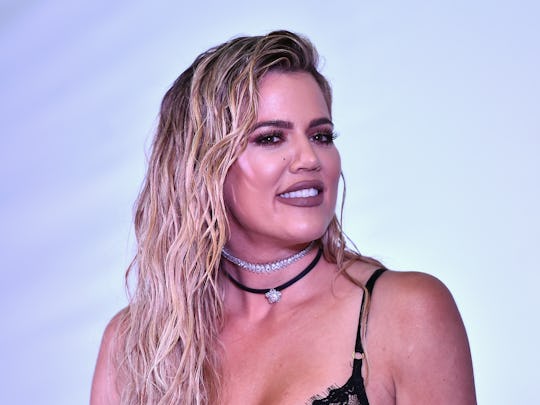 Alberto E. Rodriguez/Getty Images Entertainment/Getty Images
Khloe Kardashian Says She Needs More Energy & An "IV Drip Of Caffeine"
Khloé Kardashian seems like she's been living her best life ever since giving birth to baby girl True Thompson in April. She's been sharing all of these videos about getting back in shape where she is exercising like a champ, always smiling and full of happy energy and positivity. And yet... this is apparently not the whole story. Because Khloé Kardashian reached out for advice from fellow moms about how they find their energy, which means she is a regular human after all.
The new mom gave birth to True, her daughter with boyfriend Tristan Thompson, on April 12 back in Cleveland, Ohio. After spending the first few months of True's life in Cleveland, the Revenge Body host is back living in her home in Los Angeles close to her sisters and her mom, Kris Jenner. Khloé admitted on her app this week that she's "over the moon" to be back in L.A., especially because it means True can be closer to her little cousins Stormi (Kylie Jenner's baby girl) and Chicago (Kim Kardashian-West's youngest daughter). She wrote on her website, according to Us Weekly; "I'm most excited about being so close to my family. Getting the kids together and having True do all of her classes with her cousins is a great feeling!"
In other words, life is pretty great in Los Angeles. But it's also pretty exhausting, apparently. The Good American jeans designer took to Twitter on Friday night to ask other moms out there how they are managing to keep up their energy, especially when "I know so many people older than me and with more kids yet they still always want to go out."
I understand the new mom's frustration. It's great to spend buckets of time with your baby and all, but it's also nice to find the time to reconnect with your adult people. And if you're not getting loads of sleep or trying to deal with a demanding baby all day (spoiler alert: they're all demanding), it's far too easy to just go to sleep and let your social connections fall to the wayside.
Of course the mothers of Twitter were happy to help her with suggestions.
One woman told Khloé that her own mom had always made a point of going out once a week to have fun with her friends and get "away" from her kids. To which she replied:
Another woman pointed out that Khloé has just about the best example of a mom with multiple kids and buckets of energy in her own life; the indomitable Kris Jenner.
Yet another mom told the Keeping Up With The Kardashians star to let herself off the hook and just take the time to hang out with her baby.
All good advice, but Khloé seemed to come up with the best cure for low energy of her own. Just all the coffee in the world ever.
The new mom might be having a tough time finding the energy to have a social life, but she recently wrote on her app that she is surprised by how much "energy and patience" she has found for her little girl:
I think what surprises me most is no matter how tired you are, you find this energy and patience for your child. You know that babies are so helpless and they rely on you for everything. So something just takes over and you find the energy to care for this helpless precious baby.
My advice as a mom of four? Make people come to you. Order pizza, watch Netflix, and if you fall asleep on the couch make sure your friends are the sort of people who will let you sleep and leave quietly.
Clearly I'm not as cool as the Kardashians. But it's honestly not a bad night.