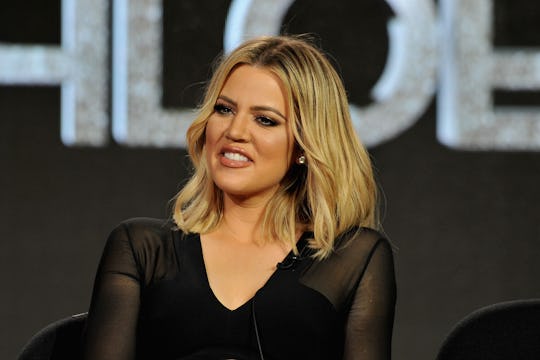 Jerod Harris/Getty Images Entertainment/Getty Images
Khloé Kardashian Took Mom-Shamers To Task With This Pointed Tweet
If you follow Khloé Kardashian on Twitter, you probably already know she fell ill over the weekend. Although it's unclear what bug Kardashian caught, she's a trooper, and attended a charity event on Sunday despite feeling "nauseous." And in order for Kardashian to fulfill her obligation to the charity, she left 3-month-old True at home with her boyfriend, Tristan Thompson. Sadly, mom-shamers came out in full force once they realized True was at home with Thompson while Kardashian dared to attend a work event solo. The backlash eventually got so bad, in fact, that Khloé Kardashian called out mom-shamers with a pointed question about parenting responsibilities. The question addressed the sexist notion that dads simply "help out" with their kids, while mothers are the "real" parent. Get 'em, Koko.
Kardashian took to Twitter on Sunday to discuss the worst part about being sick when you're a parent. "Ugh I HATE being sick!! But I hate even more I can't kiss my baby right now," Kardashian penned. "Maybe just her feet??"
Many parents responded to the message with sympathy and support, while others suggested practical solutions to her dilemma. All in all, Kardashian's tweet was just another example of how social media can be a great tool for parents.
Sadly, Kardashian also encountered the reason why some parents avoid Twitter at all costs — mom-shamers. Although it's unclear what comment set Kardashian off, it seems like people questioned her choice to attend the "If Only" Texas Hold 'Em Tournament at The Forum in Inglewood, California on Sunday. City of Hope — a private, not-for-profit clinical research center, hospital and graduate medical school — hosted the event.
So, how did Kardashian handle her haters? Look no further than Kardashian's pointed remark about co-parenting. Kardashian penned on Sunday night, according to Twitter:
Mommy shamers r at a high right now. I'm sick, at a charity event & I'm getting slack 4being here bc I have a baby? Her dad is watching her while I'm trying 2bring awareness 2an amazing organization. But either way, what's wrong w a new mom letting daddy take over 4a few hours?
Kardashian brings up a lot of amazing points here, but the most important one centers around her closing question. Why was it wrong for Kardashian to leave True with Thompson? Thompson is True's father, after all, and he is more than capable of taking care of her while Kardashian is at work. It's called co-parenting, and many parents out there split responsibilities 50/50. The notion that Kardashian is a bad mom for letting the father of her child do his job as a parent is ludicrous, to say the least, and it's offensive to both moms and dads. I think a lot of fathers out there would take offense to the idea that they're unfit to take care of their own child.
Not to mention, people should be celebrating Kardashian for juggling parenthood with her career so well. Although Kardashian would love to be home with baby True all of the time, she's also committed to her job. Striking this balance is not easy, a sentiment a lot of parents out there can probably relate to.
Following Kardashian's frustrated tweet, many fans took to the post's comments section to second her opinion.
One fan wrote, according to Twitter:
Women just cannot win - shamed for not wanting kids, shamed for having them and going back to work, shamed for having them and staying at home. We're always damned if we do and damned if we don't. And it's usually other women doing the shaming!
"Girl, preach!!! It is Mom and Dad's responsibility to take care of the baby!" another person added. "No one is saying anything to Tristan if he's out doing something while Khlo$ is home watching the baby! People are the worst."
"It's not babysitting when it's his own kid! It's called PARENTING!! People are dumb!" someone else added.
It's satisfying to see Kardashian use her huge platform to ignite a discussion about co-parenting. So many people still view dads as "helpers," and it's about time this sexist stereotype was debunked.