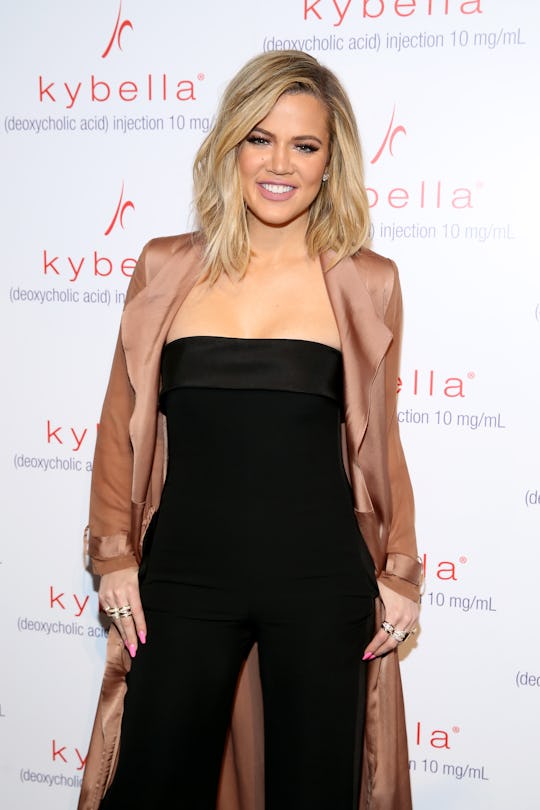 Cindy Ord/Getty Images Entertainment/Getty Images
Khloé Kardashian's Worries About Being A Working Mom Are So, So Relatable
Considering how utterly adorable True Thompson is, it's no surprise that her mama Khloé Kardashian had reservations about leaving her baby girl to go back to work. In a new post on her website, Khloe Kardashian shared her worries about returning to work after welcoming baby True, being a working mom, and how she managed to get excited about it all — and fellow working parents will totally relate.
Kardashian gave birth to True on April 12 in Cleveland, Ohio. She returned to work just shy of three months later, on July 6. "Going back to work after having True has definitely caused me a little anxiety," Kardashian wrote in her blog post, according to the Daily Mail. "The days leading up to my very first day back were tough, but once I started going through the motions, everything fell into place. It's like riding a bike!" Kardashian added, according to People. Kardashian did not disclose what job she was returning to, but likely, it was her role as co-founder of the clothing brand Good American.
Despite her nerves, Kardashian emerged from her first day back on the job feeling much better about being a working mom. "On my first day back, True was perfect while I was gone. Plus, coming home was soooo much fun — I acted like I hadn't seen her in forever!" Kardashian wrote, according to People.
Additionally, returning to work got Kardashian excited for the new challenges that being a working mom will present. She added, according to People:
I've never had to juggle a baby and work at the same time, so it'll be interesting to see how I'll learn to handle everything ... Women do it every single day, so I know I'll get through it — I'm just anxious because it's the unknown.
But still, Kardashian's wealth and position does help make the whole working mom thing a little easier. In her blog post, she noted that she is "so fortunate and blessed" that she can bring her daughter into work often.
Since bringing True home from the hospital, Kardashian has shared so many updates on her baby girl with her fans, ranging from realizations about motherhood to adorable moments to difficulties with breastfeeding. Earlier this month, the Revenge Body star disclosed that she had to stop breastfeeding True. "I had to stop breast feeding 😩😩😩 it was really hard for me to stop (emotionally) but it wasn't working for my body," Kardashian tweeted, adding that she was sad and frustrated by the experience.
The new mama has also shared some of the surprising aspects of parenting with her fans. In a blog post back in May, Kardashian wrote that no matter how tired she is, she always finds the energy to take care of True, according to Cosmopolitan. She reportedly wrote:
I think what surprises me most is no matter how tired you are, you find this energy and patience for your child ... You know that babies are so helpless and they rely on you for everything. So something just takes over and you find the energy to care for this helpless precious baby.
Kardashian has also shared plenty of short and sweet updates about her daughter on Twitter and Instagram. Earlier this week, she couldn't help but tell her fans: "I can't stop kissing my little munchkin!!! 😍😘😍😘." Honestly, I don't blame her. THOSE CHEEKS!
She's also shared a couple of tweets about True's sleep schedule — damn, this one made parents all over the world jealous as hell.
It's clear that Kardashian is so excited about the new working mom chapter in her life, and it will be super interesting and exciting to continue to read her updates on life with baby True.