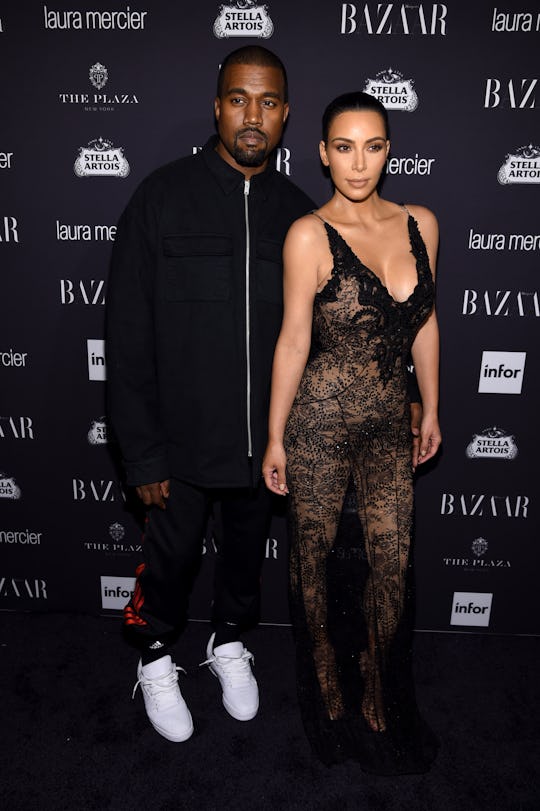 Dimitrios Kambouris/Getty Images Entertainment/Getty Images
Kim Kardashian Has Cell-Phone Rules In Her Home & It's A Genius Idea
It's impossible not to be attached to your cell phone in 2018. Smart phones (and all of their apps) have seriously changed people's lives and allowed them to be connected to any person in the world, at a moments notice. But to a lot of parents, this isn't necessarily a good thing — take it from Kim Kardashian. In a new interview at Beauty Con this past Sunday, Kim Kardashian revealed she has cell-phone rules in her home, so that it doesn't take away from spending time with her kids — and her advice to other parents about this is absolutely brilliant.
While fans of the Keeping Up With the Kardashians and social media superstar might think that she is addicted to her phone, during an interview at Beauty Con over the weekend, Kardashian revealed that it isn't the case, according to People. And when it comes to raising her three young kids in 2018 — 5-year-old daughter North, 2-year-old son Saint, and 7-month-old daughter, Chicago, according to People — Kardashian is aware that there needs to be less of a focus on her phone and more of a focus on her family. Because of this, Kardashian said that she actually works with a child psychologist to help her maintain a balance that is right for her family, according to People.
"I think, especially for kids in their minds — and they're so fragile and young — that there has to be rules of maybe not sleeping with the phone right next to you," Kardashian said, according to People.
Because her kids are so young and so impressionable, Kardashian revealed that this is the reason why she doesn't allow phones at the dinner table. Kardashian told the audience members, according to People, "never get up and leave and take the call or take it at the table because you're showing your kids that this phone call is more important than them." That's fantastic advice.
And because some of Kardashian's work (like posting to social media) involves her phone, Kardashian said that she has established "cell-phone hours" in her home, according to People — and this is is valuable advice that other parents can learn from.
This isn't the first time that Kardashian has talked about educating her kids about phone use and social media. At the beginning of this year, during an appearance at the Create & Cultivate conference in Los Angeles, California, Kardashian emphasized the importance of being "present" with her kids. Kardashian said, according to Bustle:
I can't imagine what it's like growing up in world with social media as a young teenager — it all came when we were in our thirties. I can't imagine what that would be like and I want my kids to see the separation and feel the difference, and know that there's a time and place for that. I'm really cautious, when I'm at home, with phones, and I'm super present.
Although some people might expect Kardashian, who has 114 million Instagram followers, to be addicted to her phone, this isn't the case. And based on Kardashian's words this weekend, it's clear that she doesn't let social media control her life. Although it might seem hard to believe, Kardashian has taken breaks from social media in the past — most recently in late 2016, when she took a three month long break after being robbed in Paris, France, according to E! News. Kardashian returned to her Instagram and Twitter accounts in January 2017, according to E! News, and has maintained a healthy approach to it, being sure to not share too many intimate details about her life.
And based on her recent comments about social media, it's clear that she has struck a perfect balance between sharing photos with her followers without being on her phone too much.
If Kardashian thinks that being on her cell-phone in front of her kids is already a huge problem, then she probably won't love it when her kids get phones of their own a few years down the line. But when they do eventually get their own smart phones and start using social media, it's likely that Kardashian will probably set boundaries for them and have rules for cell-phone use inside her home. Based on her current comments, her kids are probably well aware of it.