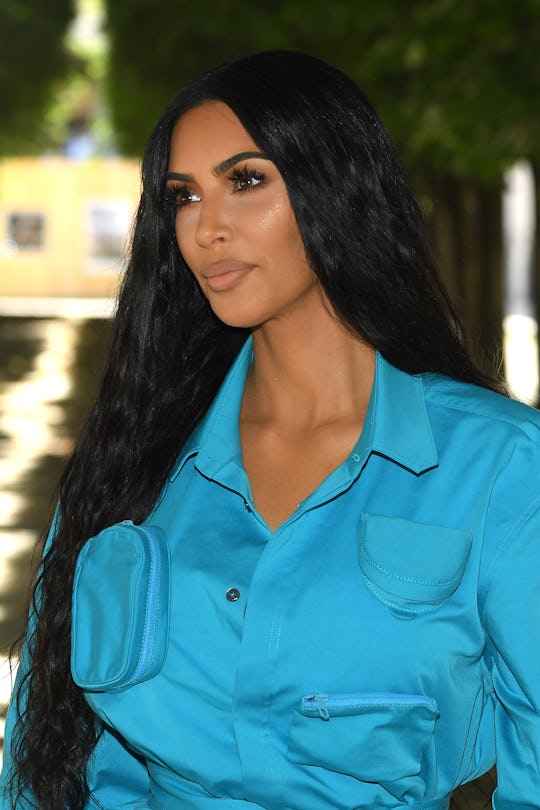 Pascal Le Segretain/Getty Images Entertainment/Getty Images
Whoa, Fans Are Convinced Kim Kardashian Just Revealed Chicago's Middle Name In This Photo
With two strong personalities for parents, it could have been guessed that Chicago West, Kim Kardashian and Kanye West's nearly 6-month-old daughter, would be able to throw some 'tude around. And all that was on display today in an oh-so-adorable Instagram post shared by her mom. But not only did fans get to see the baby's big personality, but many of her followers seemed to think that Kim Kardashian may have also revealed Chicago's middle name in the caption of the photo.
The ridiculously cute pic is all about Chicago, as she gazes into the camera like she's staring at your soul. Kardashian is there too, but just as a peripheral in the corner of the photo. She's window dressing for Chicago's complete theft of the camera lens. Kardashian added a filter with little pink hearts around baby Chi's head, which only serves to make her look like a tiny little pop diva.
Adding intrigue, though, to just what was going on at that moment was what Kardashian captioned the post. "Chi Noel," the mom of three wrote, perhaps giving fans a clue as to Chicago's middle name? It wouldn't be unthinkable, as Noel is Kardashian's own middle name, according to Us Weekly. But here's what's interesting: neither of the other two Kardashian/West children, daughter North and son Saint, have middle names, as the news outlet noted.
In fact, Chicago didn't have a middle name either when her birth certificate was released, according to Hollywood Life. But the site noted that it's easy to change a baby's name with a simple request throughout the first year. So why the diversion with baby number three... if they actually did give her a middle name? Well, it's not clear. But what makes this whole middle name mystery even more confusing is Kardashian's preference for one-syllable baby names. When she spoke with Ellen DeGeneres, the talk show host mentioned that Kardashian told her she wanted to stick with monosyllable names, Us Weekly reported. "And I did. Chicago is not one syllable. It kind of messes with me, I'm not gonna lie. I really like the one syllable thing," Kardashian said.
Whatever the case may actually be, fans certainly seem to think Kardashian spilled the beans today. "We have the same middle name!😍😍", one commented.
"Shes the only one with a middle name?" one more chimed in. Yet another wrote, "Noel Is my middle name too. It's so beautiful and means allot [sic] to me as it was also my great aunts name."
Others pointed out the family similarity. "Awee she named after you 😍😍😇 this precious." Another fan wrote, "Wait she is the first to have a middle name and its your middle name omg so dope love it."
The fashion and beauty entrepreneur also mentioned to DeGeneres that they'd considered the names Jo, in honor of her maternal grandmother, and Donda, in honor of West's mother who passed away in 2007. But as she told DeGeneres, according to Us Weekly, "I just wasn't sure if it's too much to live up to. I just felt like Chicago is cool and different."
Unique names run in this generation of the family. Kardashian's older sister Kourtney got the trend started with her children's names, Mason, Penelope, and Reign, according to The Sun. Rob Kardashian's daughter with Blac Chyna is named Dream, and Kylie Jenner's daughter with Travis Scott is named Stormi. The newest cousin is Khloe's daughter with Tristan Thompson, True, according to The Sun.
Just a few days ago, in honor of Khloe's birthday, Kardashian posted another photo of Chicago on Instagram, looking equally cute, alongside True and Khloe. In that pic, it's True who seems to be casting a little side-eye to the camera. "This year you have shown strength like none other. I love seeing you as a mom and I can't wait for the years ahead," Kardashian wrote to Khloe, along with birthday wishes.
In fact, where the Kardashian sister's Instagram accounts used to be full of fashion and parties now they are a pretty even mix of fun times with friends and fun times with their growing families. It's great to see them evolving into and enjoying this next phase of their lives. And from the glimpses already shown, they may not hold on to those Instagram queen titles much longer anyway. They're well on the way to replacing themselves with the next generation of camera divas!