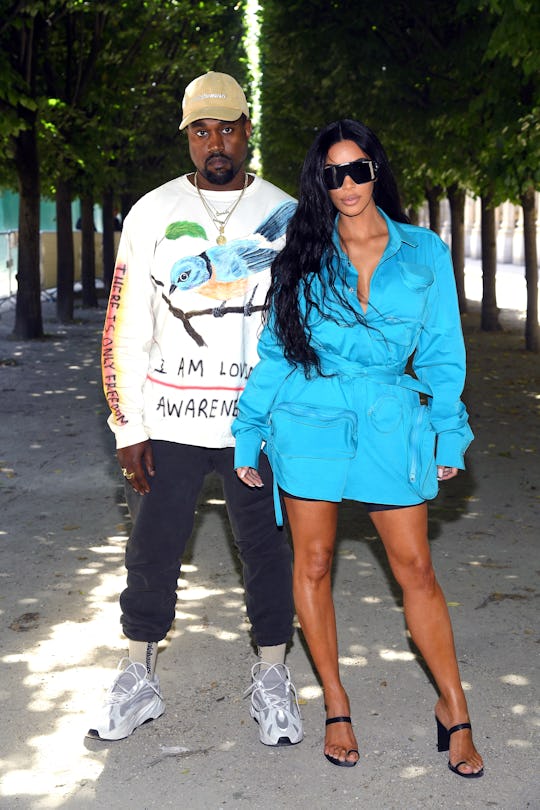 Pascal Le Segretain/Getty Images Entertainment/Getty Images
This Picture Of North Giving Kanye A Kiss Is Too Freaking Cute
Sure, we as a society may be a tad bit addicted to mindlessly scrolling through our social media feeds. At the same time, though, it's difficult to argue that it hasn't connected people more than ever, especially when it comes to celebrities and their fan bases. Stars now have direct access to their fans at the tap of a finger — which is fantastic for things like promoting their work or brand sponsorships. But it's also a great way to connect with followers by sharing intimate details and personal photos of their everyday lives. And Kim Kardashian's new Instagram photo shows a sweet moment between Kanye West and North.
On Tuesday, Kardashian took to instagram to share some seriously adorable father-daughter bonding between her husband, Kanye West, and their 5-year-old daughter, North West, E! Online reported. The shot features North giving her daddy a smooch on his cheek. And Kanye's face? It's simply priceless. The KKW Beauty mogul captioned the sweet shot with, "I can still feel the love," followed by a heart emoji. What happened next is all too predictable. Cue: Adoring followers promptly go, "Awwww!" in unison. "This is so cute and precious," one person commented. "Ps. I want her hair."
Another follower wrote, "The love between father and daughter is unexplainable."
Yet another person chimed in with, "This is the Kanye we like to see."
While another declared, "Kanye has the most beautiful smile. Daddy's little girl. Beautiful."
One Instagram user pointed out that a candidly smiling Kanye photo is a rarity, indeed. "Omg he's actually smiling," they wrote. Which I mean... this person does have a point. After all, his signature pose for pictures is almost always straight-faced.
Still others missed the point altogether, and opted to berate Kardashian for straightening North's hair. Yet again. (Because according to the Daily Mail, this definitely isn't the first time.) "Stop straightening her hair," one follower commented. "She is YOUR child and I am not telling you what to do, but it's bad enough that her mother is strictly concerned with her looks, which again is amazing, but having to grow up in your shadow with her hair being straightened doesn't give her a chance to explore her truth."
Haters aside, the fact that Kanye made an appearance on Kardashian's Instagram feed is pretty notable in itself — let alone that he has a giant grin on his face. But then again, it seems as if North is a pro at getting her daddy to smile. In a tribute post for Father's Day, Kardashian shared a photo of North riding on West's shoulders as he flashed another big smile, People reported. "Happy Father's Day babe," Kardashian wrote. "Thanks for being such a good dad to our babies! Shout out to all of the amazing dads out there!" (Ahh, I see. West smiles plenty — especially around his kids. He just isn't a fan of the posed smiling look.)
For fans and followers of the KarJenners, this is definitely the side of Kanye West they prefer to see. Unfortunately, the rapper has been the target of serious criticism in recent months because of controversial comments he made about racism in the U.S. Back in May, West appeared on TMZ Live when the remarks went down, Us Weekly reported. "You hear about slavery for 400 years. For 400 years? That sounds like a choice," West said at the time. "Like, that was there for 400 years and it's all of y'all? It's like, we're mentally in prison." Yep. That really happened, folks.
Needless to say, this most recent photo of Kanye West smiling with his little girl, North, is definitely a breath of fresh air. I may be biased because I'm a parent who has little interest in Kim Kardashian's makeup/beauty, but I think her kid posts on social media are by far the best.
So please keep 'em coming, mama — and feel free to continue ignoring the naysayers who nit-pick at your parenting choices. Because your family is just too sweet.