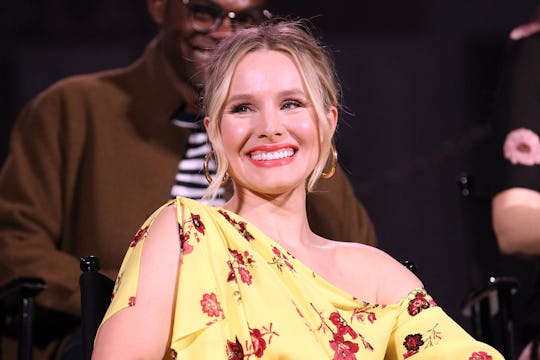 Leon Bennett/Getty Images Entertainment/Getty Images
Kristen Bell's "Back-To-School Anthem" Will Put A Smile On Your Face
The start of August can only mean one thing for kids and parents: The countdown to back-to-school season is officially on. And everyone's favorite celeb mom has written a parody song in tribute to this happy-sad time of year that's just so pure, it will have you giggling with glee. As part of a promotion between Old Navy and nonprofit website Omaze, Kristen Bell performed a "back-to-school anthem" and it's as sweet as you'd expect it to be.
In the segment, which was published on YouTube this week, Bell writes a song about going back to school with the help of a few young "experts." Sitting down with a couple groups of kids and diligently taking notes, Bell tells them she wants their input on how to write an awesome song about what they expect from the school year — and the feedback she gets is just priceless.
For example, one kid is sure summer lasts 820 days, another student has some advice about wearing "skepticals" to look cool as part of his first-day wardrobe, and another wonders if his prospective teacher could actually be a puppy instead.
"If you could wear anything for back-to-school, what would it be?" Bell asks a group of kids in the hilarious clip.
"I would wear a hat and skepticals," one adorable kid answers, with the actress nodding and taking careful notes. "I would wear glasses and fake braces," chimes in another. "Fake braces, is that even legal?" the first kid asks the second, while Bell promises to check on the legal consequences of such a fashion choice.
After the interviews, Bell takes to the stage, armed with her pen and notebook to perform her song and dance inspired by her interviews, which includes rhyming the words "Lisa" with "pizza," "pocket" with "rock it" and "first day" with "puppy" (you'll just have to watch it, trust me). And though the joke is that Bell fails to impress the audience of kids, in real life, Bell is truly rocking it, right?
This clip is just another example of Bell's fun-loving, but dedicated and creative nature as a mom. For instance, in a 2017 interview with Working Mother, she revealed how convinces her kids — daughters Delta, 3, and Lincoln, 5, who's about to started kindergarten, according to PopSugar —  to put their sunscreen on. According to Working Mother, Bell explained:
Let's say I have to put on their sunscreen in the morning. Instead of saying, "let's just do this real quick" and get into an inevitable fight, I look for ways to engage their curiosity... They love sunscreen. It's white goo. Anybody under the age of five loves that... I say, "OK, put your sunscreen on," and we go outside and I let them squirt as much as they want on their arms and legs.
Bell's approach to things as simple, but sometimes frustrating, as putting on sunscreen and back-to-school shopping really is refreshing. Yes, parenting isn't easy, but Bell always seems to handle it with ease... and occasionally, a badly-rhyming joke.