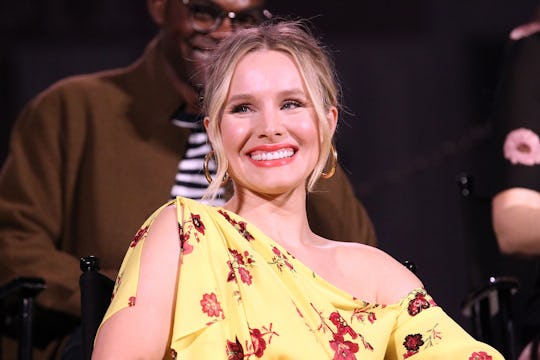 Leon Bennett/Getty Images Entertainment/Getty Images
Kristen Bell Celebrated Her 38th Birthday By Helping Reunite An Immigrant Family
Kristen Bell is totally going to end up in the Good Place. The actress, mother, and notorious do-gooder celebrated her 38th birthday on Wednesday, July 18, and she documented parts of her day on social media, including the gifts she received. But Kristen Bell's birthday gift to herself was really a gift for others, and it's a profound reminder of how important it is to keep fighting for immigrant families.
In honor of her birthday, Bell posted an Instagram video of herself talking about her birthday wish and the present she got herself, captioned: "I don't need anything for my birthday. But there are a lot of things I want.😘"
"What I really wanted for my birthday this year was a peaceful feeling. You can swipe left to see what I bought myself," Bell said in the clip. "And if you would also like a peaceful feeling, feel free to click the link in my bio and we can help family number nine. I hope you all have a wonderful day."
The next slide in her carousel reveals that she donated $4,457 to a GoFundMe campaign titled "Delmi Support Team - MOM #8." (For some reason, the GoFundMe page lists her donation as $4,207, which is $250 less.) The third slide shows screenshots of the GoFundMe page before and after Bell made her donation — the total amount raised increased from $25,793 to slightly more than $30,000, which was the campaign's crowdfunding goal.
The Delmi Support Team campaign was started on GoFundMe by Immigrant Families Together, which is a "network of Americans committed to rapid response unification of families separated by the 'zero tolerance' policy," according to GoFundMe. The organization is working to reunite undocumented parents who were detained at the U.S. border with their children, whom they were separated from, as a result of the Trump administration's "zero tolerance" immigration policy.
Delmi is the eighth mother who Immigrant Families Together raised money for and, according to the GoFundMe, Delmi is presently detained at an ICE facility in Arizona, and her child is in another state. Immigrant Families Together is working with Delmi's attorney to get reunite her with her children, and they will use the money raised to pay for Delmi's transportation to her child, accommodations, food, and more.
Now that the Delmi Support Team has reached its goal, Bell is encouraging others to donate to the organization's next fundraiser, which is called "Team Hillary Twins - FAMILY #9." Two 19-year-old twins, named Hillary Alejandra and Hillary Estafany, are both detained in an Arizona ICE facility. Their younger brother was transferred to another state, and their mother already lives in the United States, according to the GoFundMe. Immigrant Families Together has currently raised $22,339 of the $30,000 goal, which is how much the twins' bonds are.
It's wonderful that Bell is using her wealth and platform as a celebrity to bring attention to these causes, and hopefully all of Immigrant Families Together's crowdfunding campaigns will raise the necessary funds to help these families soon.
Even though making the donation was Bell's biggest birthday gift, she also got a pretty sweet one from her daughters. "Today I woke up to breakfast in bed, immediately was given a side pony, and handed this beautiful birthday note. THIS is the good place!!!" she wrote alongside an Instagram carousel earlier in the day. In the first photo, she is totally rocking said side pony and brandishing a breakfast sandwich. The second picture is of an adorably illegible note her children wrote her for her birthday.
Kristen Bell's daughters are certainly lucky to have such a giving and kindhearted mother, and the world is just as lucky to have such a positive, good person using her power to make a difference.