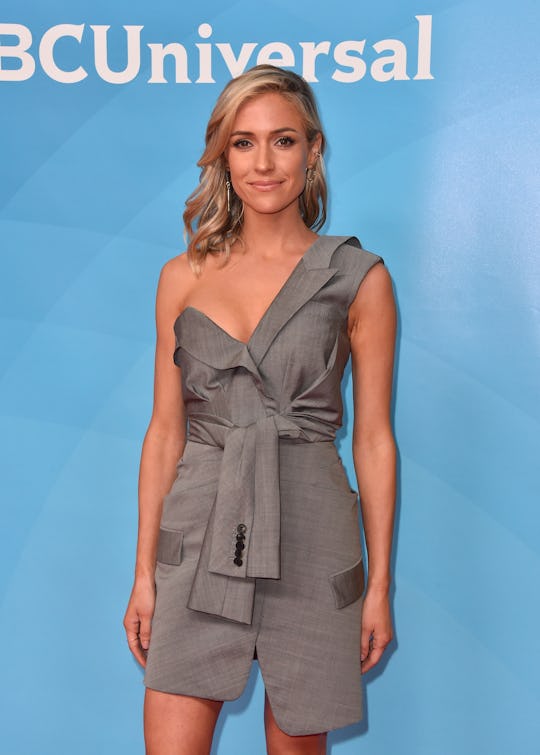 Alberto E. Rodriguez/Getty Images Entertainment/Getty Images
Kristin Cavallari Has No Time To Respond To Mom-Shamers On Social Media
Being famous certainly has its perks — but it also has its downsides. One pretty rough drawback of fame, especially for those celebrities on social media, is dealing with mean comments from trolls. And what's worse than an internet troll trolling a celeb? An internet troll trolling a celeb's children. Television personality Kristin Cavallari recently opened up about one notable time haters criticized her sons after she posted a photo of them. Kristin Cavallari also explained why she no longer responds to mom-shamers on social media and it makes complete sense.
Cavallari, best known for starring in Laguna Beach and The Hills, and her husband, football player Jay Cutler, share three children: sons Camden, almost 6 and Jackson, 4, and a daughter named Saylor, 2, according to People. In a recent interview with Us Weekly, Cavallari explained why the response to a photo she posted of her husband and their two sons on July 4th weekend in 2016 had such an impact on her.
"The final straw for me was a couple years ago," she told Us Weekly. "We were on vacation and I posted a picture and my baby boys got skinny-shamed."
The photo in question is full of comments, some of which call the boys things like "too skinny," and many of which call out the trolls for criticizing the boys' bodies.
Cavallari was understandably angry that people were commenting on her sons' bodies, and she responded to them in the photo's comments section. "Yep, I starve my children," she sarcastically responded back in 2016, according to People. "Just blocked the most people I've ever blocked in my entire life." But after that moment, she realized that other people's opinions regarding her children or her parenting skills don't matter.
"After that I was like, 'I really don't care,'" she told Us Weekly. "I know what I'm doing. My kids are happy and healthy and at the end of the day that's all the matters."
This is not the only time Cavallari has commented on not caring less what people say about her kids or her parenting skills on social media. Earlier this year, she told People:
Getting backlash about anything I'm doing when it comes to parenting, I really don't give a s— about because I'm so confident at what I'm doing as a mom that I don't care.
That being said, Cavallari has received some (slightly more warranted) criticism on several other occasions. When her husband signed a contract to play for the Miami Dolphins, Cavallari revealed she and their kids would be remaining in Nashville while he was away. "So, I'm a single parent for the next five months," she joked at the time, Entertainment Tonight reported. The comment drew a lot of flack — one person wrote on Facebook, "I hate when people say they're a single parent when their spouse is temporarily away. It's not a joke to laugh about," as reported by Scary Mommy.
Still, the Very Cavallari star is clearly very protective of her children, and a huge fan of having a family. In fact, she loves her family of five so much that she doesn't want to have any more children. In an interview with People earlier this month, Cavallari said:
I love having three kids. I especially love having two boys and a girl — we feel like a very complete family. We're good, we're done ... My daughter is 2½ and I don't have to lug around a diaper bag anymore and all the crap ... We're finally at a really good place where we can just pick up and go.
Even though some people may have negative thoughts about a public figure's children simply living their lives, sharing them is never the kind thing to do. But even if the trolls continue to do so, it clearly won't bother Kristin Cavallari.