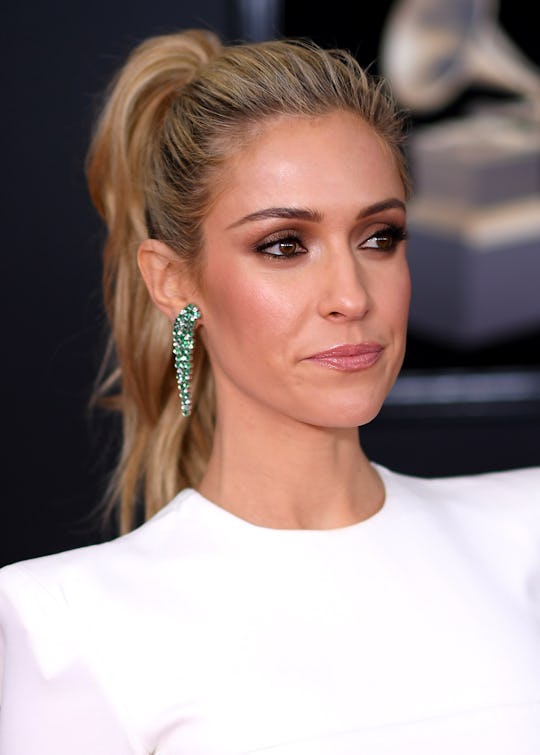 Dimitrios Kambouris/Getty Images Entertainment/Getty Images
Kristin Cavallari Is Done Having Kids For This Very Real & Relatable Reason
Once you start having children, it's inevitable that people will start to ask you how many more you want to have. It can be an awkward conversation for some people, but not for former Laguna Beach and The Hills star Kristin Cavallari, as you might expect. In fact, in an interview this week, Cavallari said she's "done" having kids, and her reasoning is pretty legit and it's something that many parents can likely relate to.
Cavallari has three kids with her husband Jay Cutler: 6-year-old Camden, 4-year-old Jaxon, and 2-year-old Saylor. The Very Cavallari star told People in a new exclusive interview that she's just ready to move onto the next stage of life. "I love having three kids. I especially love having two boys and a girl — we feel like a very complete family. We're good, we're done," she told People. The 31-year-old reality star explained in the same interview, "My daughter is 2½ and I don't have to lug around a diaper bag anymore and all the crap. We're finally at a really good place where we can just pick up and go."
Cavallari went on to explain to the publication that each of her kids has "a little bit of independence" right now and she's enjoying it, which is more than understandable. "I don't want to go back to the diaper phase and all of that," she told People. She makes a good point. Sometimes, for some families, the fun comes after the diaper bag stage and it's time to bring your fam to the next level.
This isn't the first time Cavallari has discussed whether she and Cutler are finished making babies. She told Us Weekly last summer:
I can't imagine having another [baby]! We had three babies in, like, four years, so the baby fever is gone. We feel like such a complete family, especially now that we have a girl. It feels so perfect, that why mess with that?
She added in different People interview in 2016 that her middle child was more difficult than any of her other kids and that her youngest was "easy," which isn't hard to imagine. Because of that — and "finally" getting a girl — Cavallari was simply done with procreating, as she told People in the same 2016 interview.
Three kids in four years is undoubtedly a lot for a couple, and a mother's body, to handle. And despite all of her past declarations on the subject, Cavallari continues to be asked about having more kids.
Although she hasn't confirmed it, Cavallari said in 2016 on SiriusXM's Conversations With Maria Menounos that she was going to ask Cutler to get a vasectomy. When Menounos pushed back on the idea of asking a man to take a birth control measure, Cavallari doubled down on her position. In the interview she said:
My philosophy is, we have to push the babies out. We are the ones who have to go through everything. So you can do one little thing and get snipped...[I've] pushed three babies out the old hoo-ha. I've done enough.
It's unclear if he's had one since then or if they've found another way to be "done" having kids. But frankly, that's really nobody's business.
Cavallari obviously loves being a mom, given that she's open to talking about parenting and shares glimpses of motherhood on her social feeds, so maybe it's time that people start focusing on those things instead of the baby questions. She's already answered the questions many times over, after all.
Often, when she posts a bikini pic to Instagram, fans immediately start guessing whether she's pregnant or not. Last summer, according to Us Weekly, she even had to address the rumors on the 'Gram, explaining that she was holding her dress down on a windy beach, not clutching a bump.
So hopefully this is the last time Cavallari is positioned to explain her reasoning behind not having any more kids. Her family feels complete with three and she likely has tons of other great stories to share with the world.