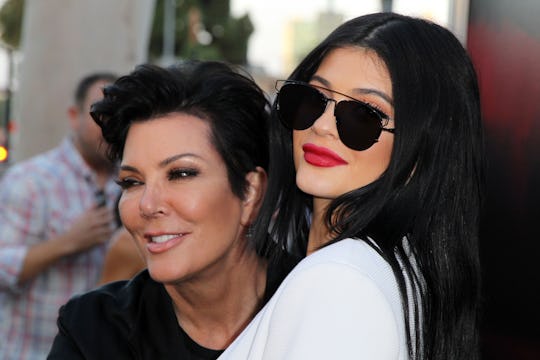 David Buchan/Getty Images Entertainment/Getty Images
Kylie Jenner Carried On This Touching Family Tradition After Stormi Was Born
When you are part of a family as big and close as the Kardashian-Jenners, there's a good chance you will pass down a few family traditions. And while Stormi Webster may only be 5 months old, her mom Kylie Jenner has already shared a special KarJenner tradition with her daughter. In fact, she shared the tradition with her daughter very shortly after she was born.
Kylie's mom Kris Jenner recently opened up about the family tradition in an interview on Fox's OBJECTified, as E! News reported. "I gave all of her baby stuff to her when she got pregnant with Stormi and Stormi wore it home from the hospital," Kris said on the show, speaking about Kylie. As Kris explained on the show, she brought all six of her children home from the hospital in new nightgown sets, which she saved. The printed set Kris brought Kylie home in back in 1997 included a gown, bonnet, cap, and blanket, as she shared in the interview. The family held onto the outfit for 20 years, and when Kylie welcomed Stormi in February, Kris shared that she brought her home in the exact same outfit. Is it just me, or is that the sweetest thing?
Kris did not comment on whether any of her other children took their babies home to to the hospital in their nightgown sets, but considering five of Kris' six children are parents, there's a good chance that Kylie wasn't the only one to uphold this sweet tradition.
Another family tradition Kylie is honoring as she raises Stormi? She's keeping things super real when updating her fans on adventures in motherhood. For example, she once shared a photo of her and Stormi (well, the back of Stormi's head) captioned, "Our hair both a mess but," followed by the heart eyes emoji and an emoji with its tongue sticking out.
Similarly, Kylie's sisters have been super real and honest in their parenting updates. For example, Kourtney Kardashian has shared several photos of herself pumping breast milk on Instagram, and Kim Kardashian has posted online about putting North in time out when she misbehaves (although, North seems to have found a way to thoroughly enjoy time out, according to The Cut).
Another KarJenner family tradition? Over-the-top children's birthday parties. In a recent Snapchat story, Kylie shared her thoughts about Stormi's upcoming first birthday party, which will be in February 2019. "I'm already thinking about her first birthday and how it's going to be epic, OK?" Kylie said in the Snapchat video. "I was gonna do super magical unicorn theme, but North and Penelope beat me to it, so I have to think of something else." Kim's daughter North and Kourtney's daughter Penelope have had several epic themed birthday parties — in addition to their unicorn party, they've also had Moana and "under the sea" birthday parties.
Something Kylie's doing a little differently than the rest of her family? She's keeping her baby from the spotlight (for the moment, at least). Kim, Khloé, Kourtney, and Rob have all shared endless photos of their babies on social media, and some of their children have even been featured on Keeping Up with the Kardashians. During the first few months of Stormi's life, Kylie shared several photos of her daughter online; however, a few weeks ago, the makeup mogul announced that she was taking a break from sharing photos of her 5-month-old's face. On June 10, Kylie 'grammed a picture of herself and Stormi, with about 90 percent of Stormi's face cropped out. Several fans commented on the post, noting that Kylie cut her daughter out of the image, to which Kylie replied:
Yeah, I cut my baby out. I'm not sharing photos of my baby right now.
Considering how heavily scrutinized Kylie and her family usually are, it's totally fair that she wants to keep her baby's face private.
It's clear that Kylie loves being a mom to Stormi, and it will certainly be interesting to see if she continues to follow any other family traditions as Stormi grows up.