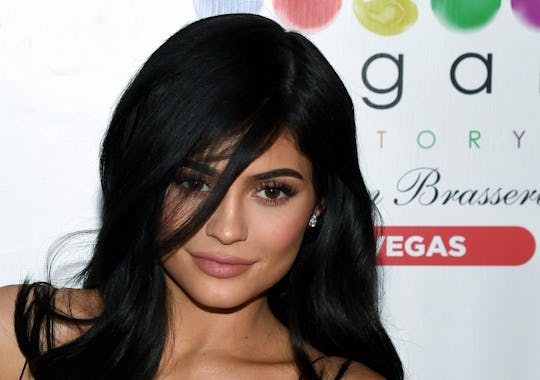 Ethan Miller/Getty Images Entertainment/Getty Images
Kylie Jenner Said Daughter Stormi Is "Changing Every Week"
When Kylie Jenner gave birth to her daughter, Stormi Webster, with her boyfriend Travis Scott earlier this year, fans were dying to know every single detail about their little girl. But in the five months since then, Jenner has been hesitant about sharing too much of her daughter, posting about her on social media ever so often. However, fans will probably be pretty happy now that Kylie Jenner finally revealed what Stormi's personality might be like after a question and answer session on Twitter on Thursday. Yay!
It's hard to believe that almost one year ago, the social media superstar and makeup mogul Kylie almost stepped away from social media completely, according to MTV UK, rarely taking to her social media accounts to share photos or update fans about her life. Of course, a little less than nine months later, Jenner revealed in an Instagram post that it was for the sake of her health and the health of her unborn child, because she had been pregnant, according to Insider. And on Feb. 2, Jenner finally gave birth to Stormi, according to Vanity Fair.
In the months since then, Jenner has shared photos and a few videos of Stormi to her Instagram account, and both Snapchat and Instagram stories, according to Seventeen, as her daughter has continued to grow. And now Jenner finally shared with fans some more details about Stormi — including how sweet her little girl is really growing up. "She has the cutest personality," Jenner wrote on Twitter, according to People.
Jenner also told the fan on Twitter that Stormi is "changing almost eery week now" which is such an exciting fact for fans to know about. While it's pretty much a known fact that babies change every week, hearing it straight from Jenner is very reassuring to know.
While it's a little disappointing that fans don't get to see as much of Stormi and her personality as they'd probably like to, her update is still very exciting nonetheless. At least, fans on Twitter seemed to think so, taking to Twitter to react to this very exciting Stormi update.
Updates like these are much welcomed, especially since Jenner recently stated that she isn't going to be posting photos of Stormi on her social media accounts for a while, according to People. In early June, Jenner deleted all of the photos on her Instagram account that she had previously posted of Stomi's face, according to E! News. Jenner then later took to the comments of her newest Instagram photo at the time to let fans know why they might be seeing less of Stormi, according to People. "I'm not sharing photos of my girl right now," Jenner wrote. Since then, Jenner has stuck to her promise.
So it is a great thing that Jenner is revealing new things about Stormi's appearance and her personality. And the best new is, Jenner has updated fans about Stormi multiple times this week. In a new YouTube video with her BFF, Jordyn Woods, posted to her YouTube channel on Friday, Jenner said that Stormi looks just like she did when she was a baby. Jenner said in the video:
Stormi reminds me — she's my twin. Now, she's looking a lot more like her dad. I prayed and prayed that she would have, like, my big eyes and she has like, the biggest eyes ever...She has my forehead, too.
But Jenner said in the video that Stormi hasn't inherited Jenner's biggest insecurity — her small lips. "She has the most perfect lips in the whole entire world," Jenner said. "She didn't get those from me, we'll have to thank her dad for those."
Even though fans might not get to see those features in photos, Jenner's updates about her daughter's looks and her emerging personality are just as welcomed.