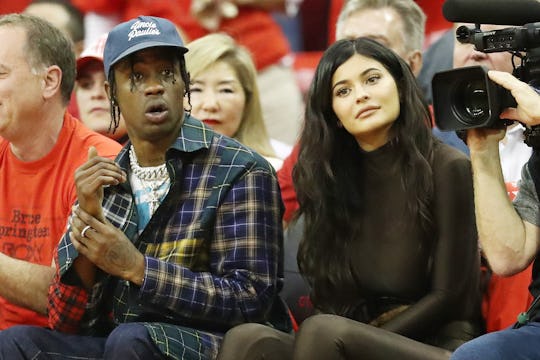 Ronald Martinez/Getty Images Entertainment/Getty Images
Kylie Jenner's Video Of Taking Stormi To Buy Magazines Has A Message
Kylie Jenner has been catching a whole lot of flak lately, which isn't exactly unusual. The 20-year-old mom and massively successful cosmetic mogul has spent the better part of her life dealing with an exhausting mix of accolades/insults. People's most recent problem with her? She's too successful. But as usual, Kylie's hilariously nonchalant about her critics. She's just focusing on her own life and her daughter. Which is why Kylie Jenner's video of buying magazines with Stormi is actually kind of badass.
There has been heaps of backlash against the Lip Kit mogul ever since she was called the "youngest self-made billionaire" in a now-infamous cover article in Forbes magazine. Essays have been written about how it's simply impossible for Kylie Jenner to be called "self-made" when she is the youngest sibling in the notoriously famous Kardashian/Jenner clan. People have taken to social media over and over again to deride the concept that she's a billionaire for doing basically nothing, never mind the fact that, according to Forbes, Kylie built her Lip Kit company over the course of two short years into an $800 million empire. Her critics take particular umbrage against her already well-cemented celebrity status before she designed her Lip Kits. So I guess that means she can't really take any credit for her own success?
I'm not sure I'm buying that logic. Kylie might have been born into a famous family but she has worked like a champ to make sure she's using that original opportunity to her best advantage. She is unstoppable as a social media influencer, able to charge $1 million per Instagram post so that advertisers can reach her followers, all 112 million of them. Kylie has cultivated her brand, definitely with the help of her momager Kris Jenner, but let's face it; being born famous isn't a guarantee of success. Cough, cough Rob Kardashian.
Say what you want about Kylie Jenner, but don't say she lacks ambition. And it seems she is passing her solid work ethic along to her 5-month-old baby girl Stormi Webster. She and Stormi went on a shopping spree to buy magazines on Friday, and here's why this is important. The magazine they were looking for, GQ, featured Kylie and Stormi's father, rapper Travis Scott, on the cover.
Kylie has been almost uncharacteristically cautious about Stormi's social media exposure; when she was pregnant for her daughter she went into full radio silence for the duration in order to enjoy the experience in privacy. After Stormi's birth, she shared a few photos on social media and then abruptly stopped, deleting all photos, according to E! News and only saying:
Yeah I cut my baby out. I'm not sharing photos of my girl right now.
She brought pictures of her daughter back on social media at the beginning of July, but only from a distance. Since then Stormi's appearances on social media have been taken from behind or a distance.
Kylie Jenner might only be 20 years old, but she's making it crystal clear that she's going to make her own choices in life. She has taken charge of the way she's going to parent the same way she took charge of building her cosmetic empire; by doing things her own way. Sure, Kylie has lots of examples of strong, hard-working women in her life, most notably her mom Kris Jenner. But she seems to want to set an example for her little girl already. That you can work hard and take pride in that work, no matter what anyone says.
And that being born into a famous family doesn't make you successful, it's simply a foot in the door. What you do with that leg up is the measure of who you are.