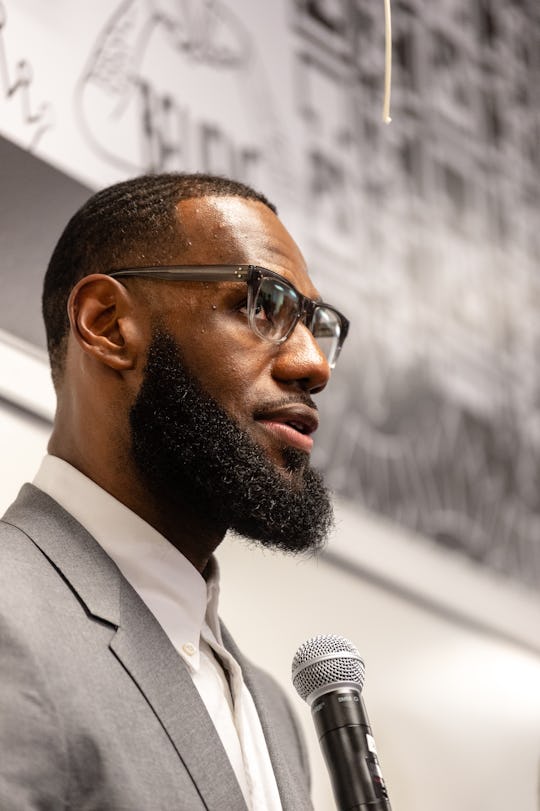 Jason Miller/Getty Images Sport/Getty Images
LeBron James Is Changing The Future For At-Risk Children With His New School
LeBron James: In the world of sports, it seems you either love him, or you hate him. Some people believe he's on the same caliber as Michael Jordan. Others think he's terribly overrated. Regardless of which camp you fall into when it comes to him as an athlete, it's kind of hard to argue that LeBron James isn't a good and generous person. Consistently, he gives back to the community from which he's from. Time and time again, he speaks out against the racist politics of the current administration. And most recently, LeBron James started a school for at-risk kids — and Twitter couldn't love him more.
That's because Monday, July 31 marked the first day of school for 240 at-risk students at the newly-opened I Promise School in Akron, Ohio. Without LeBron James, who poured millions of dollars of his own money into making this vision a reality, the school wouldn't exist today. See, the I Promise School is actually a joint effort between the LeBron James Family Foundation and Akron Public Schools, according to SBNation. The school board was in charge of overseeing the creation of the curriculum, as well as ensuring it would meet educational standards. And James was the primary donor, also helping to shape the goals of the school outside of the classroom.
As USA Today reported, the school is currently open to third- and fourth-grade students. However, the plan is for it to expand each year — with second- and fifth-graders added next year until it includes grades 1-8 by 2022. "Looking at reading data, we identified students who were a year, two years behind in reading," Keith Liechty, the Akron Public Schools' liaison to James' foundation, told USA Today. "From that, we had more than 120 kids. We had to put a cap on it so we could fit under one roof. We did a random selection of all students who met that criteria and got to make these awesome phone calls to parents and say, 'How would you like to be part of something different, the I Promise School."
So how will the I Promise School help at-risk kids, exactly? For starters, it will have a longer-than-usual school year that focuses on bringing kids up to the grade level skill-wise, according to SBNation. Tuition, all school supplies, uniforms, and transportation for students who live more than 2 miles away from the school will be also provided. (Not to mention, every student gets breakfast, lunch, and snacks, according to CNN) Additionally, there will be services available to help students dealing with stress related to parents who struggle to make ends meet at home, a family food pantry, along with activities that help prevent students from having too much down time — and therefore avoiding them getting into trouble. And because James credits his bicycle with providing an escape from dangerous areas of his neighborhood while giving him the ability to explore, every student at the I Promise School will receive a bicycle and helmet upon arrival. Pretty awesome, right?
"We want every kid that walks through this school to be inspired, to come ... away with something, something where they can give back," James told CNN. "For kids, in general, all they want to know is that someone cares. And when they walk through that door, I hope they know that someone cares."
Reactions to James starting a school for at-risk kids have been circulating on Twitter since the announcement. One Twitter user wrote, "Lebron James has done more for education than Betsy DeVos, more for charity than Donald Trump, and more for inner cities than Ben Carson. Maybe Washington should shut up and dribble."
Another person tweeted, "LeBron James is arguably the greatest basketball player of all time while also being one of the biggest (if not the biggest) philanthropist off the court. As long as I'll live, I'll never understand how anyone could hate this man."
Yet another Twitter user chimed in with, "Whether you love or hate Lebron James, you gotta respect what he does off the court."
Of course, this isn't James' first charitable move. Far from it, actually. Also through the LeBron James Family Foundation, he has pledged to pay for as many as 2,300 kids to go to college — and more than 1,000 are already in the program, according to Business Insider. Among James' other donations through the years, he has gifted $2.5 million to a new Muhammad Ali exhibit at the Smithsonian.
So the next time you hear a basketball fan expressing their hatred for LeBron James, consider kindly reminding them that although they might not think he's "King James" on the court, he's actually a heck of a guy off-court. And James starting this school in Akron to help at-risk kids — from the very community he grew up in — is just another example of the positive impact he's making in the world.