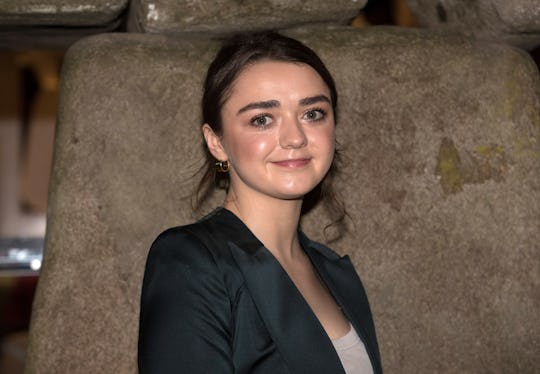 Matt Cardy/Getty Images Entertainment/Getty Images
Maisie Williams's 'Game Of Thrones' Goodbye Is So Emotional It Hurts
Like all true Game of Thrones fans I have watched Maisie Williams grow up on my television. Watched her grow from being a little girl who didn't fit in with the rest of her family to become a true warrior of the North. Her journey as Arya Stark on the epic HBO series has been tumultuous, terrifying, and riveting, which is saying something when you think of how many stories are being told on Game of Thrones. And now it seems, her story has come to an end. Maisie Williams' Game of Thrones goodbye is especially poignant, because she has quite literally grown up making the show. It must feel so strange for it to be over for her.
It looks like 21-year-old Williams has wrapped up filming her scenes for the eighth and final season of Game of Thrones. Considering the first season began production in 2011, that's seven years of working on the same show, with the same cast and crew. And she was cast for the role of Arya back in 2009, which means she's been immersed in Westeros for nearly nine years. That's a pretty solid chunk of time, especially when Williams was only 12 years old when she was initially cast. And the significance of her time making the historic series is not lost on her. She shared a picture on Instagram of her white sneakers covered in blood (assuming it's fake here) with the caption: "goodbye belfast. goodbye arya. goodbye game of thrones. what a joy i've had. here's to the adventures to come"
I'm going to need a minute here, to reflect on the past seven years and watching Maisie Williams turn into a grown up human and the end of Game of Thrones. Also a moment to contemplate what to do with the rest of my life when it's over. Williams seems to have some ideas of how she's going to spend her time now that the show is over, though. She added a few hashtags including ##imasleepforthenextfouryears, but then added #justkiddingidontsleep. But she also added #lastwomanstanding, which I really hope isn't a spoiler. That would be super unacceptable.
Williams isn't the only member of the Stark family to pay tribute to her years on set. Her sister Sansa Stark, played by real life friend Sophie Turner, recently got a controversial tattoo to celebrate her time on Game of Thrones. A direwolf (which is the Stark family mark, in case you didn't know) with the words "The pack survives."
People thought it was a spoiler indicating that the remaining members of the Stark clan, Arya, Sansa, Brandon, and John Snow, were going to survive the war. But as Turner explained on The Late, Late Show with James Corden that this was simply a quote from the last season of the show. So everyone cool your jets.
Although I understand why people are getting emotional as Game of Thrones is finally drawing to a close. Especially Maisie Williams. She went through puberty in front of the entire world while systematically seeking bloodthirsty revenge on everyone who wronged her family, which actually sounds pretty terrible/bad ass. She made friends on set who have clearly become very important to her, perhaps most notably her on screen sister Sophie Turner. The two even got matching tattoos back in 2016 to commemorate the day they were cast on Game of Thrones, "07.08.09." She has traveled the world, become an international television star, and totally owned Arya's "Kill list," which is something I think we should all plan on adopting.
Now it's all finished. Sure, we have to wait almost another entire year to see what happens. But until then, let's all just say this; Winter is coming. Valar Morghulis.