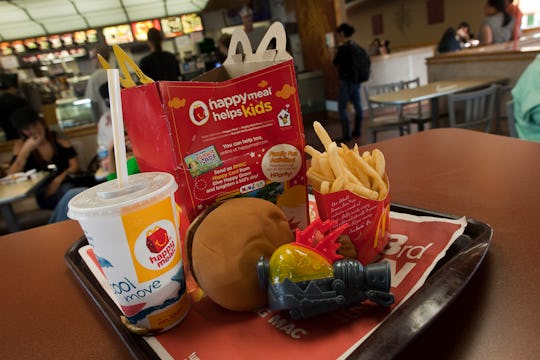 David Paul Morris/Getty Images News/Getty Images
Parents Rejoice, McDonalds Is Making Happy Meals Healthier
By 2022, McDonald's Happy Meals will be a much healthier option for kids — with an average of 20 percent fewer calories, and less salt and sugar than those sold today, according to an announcement released by the fast food chain on Thursday. But to get there, the company announced a set of major menu changes for McDonald's Happy Meals, including a few items that will disappear by as early as this summer, CNN reported. Exactly what's disappearing from the McDonald's Happy Meal menu? According to that report, several fan favorites might be going away for good.
According to that report, by this coming June, all Happy Meals sold in United States locations will have 600 calories or less. That is: no matter what combination of items a customer orders from the Happy Meal menu, it won't be possible to exceed 600 calories for a single kid's meal. What's more, the company aims to have at least half of McDonald's locations around the world meet that standard within four years.
But here's where Happy Meal lovers everywhere might need to brace themselves. The company plans to meet that goal by eliminating two mainstays from the menu board: cheeseburgers and chocolate milk.
Instead, customers will be able to choose either a hamburger or a 4-piece or 6-piece Chicken McNuggets as an entree, CNN reported. The 6-piece Chicken McNugget meal (also known as a Mighty Meal) will come with a smaller portion of fries — and nearly half the amount of calories and sodium, according to that report. In addition, bottled water will be the default beverage choice for Happy Meal orders. And when chocolate milk returns to Mcdonald's kids' menu in 2022, it will be a lower-sugar version formulated by the company, CNN reported.
Further, the chain announced plans to continue offering fresh fruits and vegetables as Happy Meal side options, such as the "cuties" and baby carrots currently available in some locations, and to continue experimenting with healthier entrees, like grilled chicken sandwiches offered in Italy, the Washington Post reported.
According to a statement posted on the company website, the announcement is part of an ongoing partnership with Alliance for a Healthier Generation, a nonprofit founded by the American Heart Association and the Clinton Foundation to focus on childhood obesity issues. The company outlined a set of broad principles behind the Happy Meal menu changes, including a commitment to offering more balanced meals for kids, reducing the number of artificial ingredients, and reinforcing "responsible marketing to children", adding:
We [recognize] the opportunity that we have to support families as one of the most visited restaurants in the world, and remain committed to elevating our food. [...] Given our scale and reach, we hope these actions will bring more choices to consumers and uniquely benefit millions of families, which are important steps as we build a better McDonald's.
One in three U.S. kids eat fast food each day, according to the Centers for Disease Control and Prevention. And a 2012 USDA report found that one-fourth of children's calories come from fast food and eating out. The Post noted that those statistics are partly why chains like McDonald's have come under fire from nutrition advocates. Still, the new changes were hailed as "important progress" and "small changes that could make a big difference" by many of the chain's critics, the Post reported.
It's worth noting, though, that the beloved McDonald's menu items aren't going away entirely. Customers who want a cheeseburger or chocolate milk in their Happy Meal can still request one with their orders, Reuters reported. Plus, since the items will still be on the menu boards in United States locations (according to that outlet), ordering them separately will still be an option.
But by effectively "hiding" the options from the list of choices in the Happy Meal, customers could be nudged towards healthier choices. Reuters noted that when the chain did something similar with Happy Meal sodas in 2013, customers often switched to water, milk, or juice rather than asking for the more sugary option.
Check out Romper's new video series, Bearing The Motherload, where disagreeing parents from different sides of an issue sit down with a mediator and talk about how to support (and not judge) each other's parenting perspectives. New episodes air Mondays on Facebook.