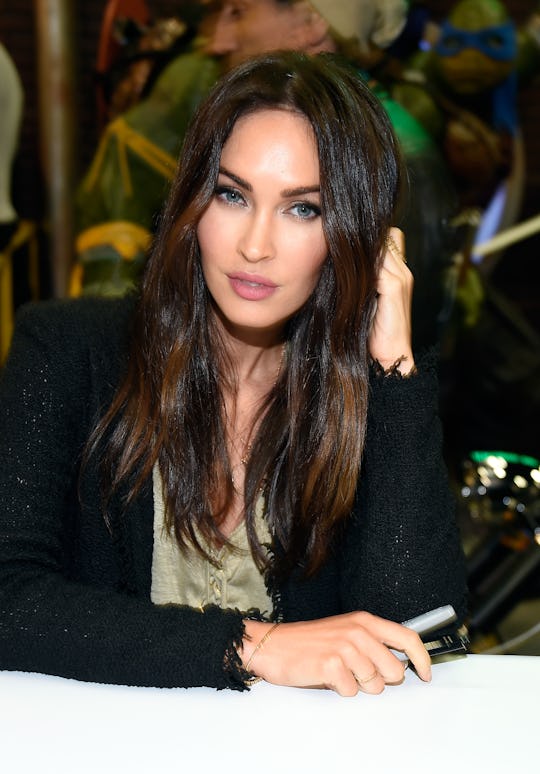 Frazer Harrison/Getty Images Entertainment/Getty Images
Megan Fox's 1-Year-Old Son Just Broke The Internet With Cuteness — PHOTO
More and more these days, celebs try their best to keep their children out of the spotlight and off their social media profiles. If only to protect them from hateful trolls, of which there are plenty in a celeb's Instagram comments. Which is why it was so surprising (but totally exciting) to see Megan Fox post a photo of her 1-year-old son, Journey River Green, adding to only a handful of times she's shared a snap of her baby boy.
In the picture, he's rocking a Teenage Mutant Ninja Turtles shirt, obviously supporting his mom, who has started in two of the movies. Fox captioned the picture, "#mood." Fox has two other kids with Brian Austen Green, 5-year-old Noah and 4-year-old Bodhi. She shares pictures of the older boys a little more often, and always draws criticisms about their haircuts, because some people can be terrible. The first picture of Journey she ever shared was months after he was born, but aside from that, Fox really keeps her kids to herself. As is her right, of course.
People were thrilled to see the newest picture of little Journey though. "Such a beautiful child! Got it from his mama," one fan wrote. Another added, "OMG hands down the cutest babies from celebrities! You two have passed down the most beautiful genes to your children. They are adorable." One other fan simply wrote "gorgeous," as did hundreds of others. "Adorable," was the verdict from the rest. Well, most people felt that way at least.
It's a huge shame that celebs feel like they should censor their lives on social media, since everything they do is usually criticized by at least one person. Like, even on this adorable pic of her gorgeous kid, someone wrote that he doesn't look like his mom because "she has had tons of surgery." Another person asked her why she put makeup on her kid, which she didn't. Babies have, well, perfect baby skin. One other person added, "I feel like it's gonna be a huge joke and comes out that y'all actually have daughters not just boys because they are just sooo beautiful and look so much like you." It was meant (maybe) as a compliment, but that's a weird way to give it, right? It's like mansplaining, but a celebrity version, where regular people think they know everything. It's fan-splaining.
Luckily, she and her husband have good attitudes about the criticisms. During an appearance on Jimmy Kimmel back in 2016, Fox explained that she doesn't do stereotypes. She said, according to SELF, "The boys can wear dresses. There are no rules — you can be whatever you want to be in my house!"
She added in an interview with Media Planet last year that her household was totally gender neutral. "When I became pregnant with Noah, I could feel, through my mother's intuition I suppose, that he was not subscribing to gender stereotypes, so I decided to provide an environment for him early on that would allow him to discover how he wanted to express himself," she said, according to Media Planet.
Green has her back in this, too. He said he tries not to pay attention to critics who "worry" that they're going to turn their sons into girls (which is impossible, FYI). Green said, according to PopSugar, "My son, he's 4. I've heard from some people that they don't agree. They don't agree with him wearing dresses. To them I say, 'I don't care.' He's 4 and if he wants to wear it, then he wears it. It's dresses or goggles or slippers — whatever. It's his life. They're not my clothes."
Green added, according to PopSugar, "I feel like at 4, at 5, that's the time he should be having fun. He's not harming anyone wearing a dress. So, if he wants to, awesome. Good on him." Likewise, if a kid wants to play with makeup or anything else, it's really no one's business but the kid's and their parents.
It's nice to see that Green and Fox are so in-tune with their parenting techniques. Fox said of her husband in an E! News interview that they have a schedule that works for them and their kids. "[Brian] does the morning routine with them and takes them to school and I usually pick them up. We try to make it to a movie once a week or have an adult lunch so that everything isn't always kid-centered. I try to make a rule let's not talk about the kids, but it's impossible," she previously told E! News. That sounds about right, especially when you have the entire world butting in every time you post to Instagram.