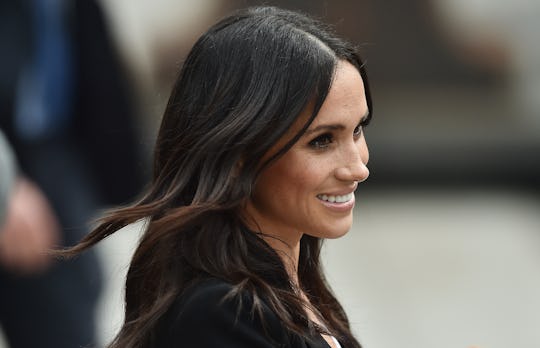 Charles McQuillan/Getty Images Entertainment/Getty Images
Here's The One Royal Rule Meghan Markle Finds Especially Frustrating
Duchess of Sussex Meghan Markle has been a member of the royal family for close to two months now. Time moves at an incredible rate, right? And now that some time has passed, Meghan Markle is reportedly questioning certain royal rules, especially where it concerns the Queen of the United Kingdom's clothing preferences, according to People. Apparently, Meghan isn't thrilled that she has to wear either a skirt or dress in the Queen's presence — a frustration her fans can probably understand. Meghan is a bonafide feminist, after all.
In case you haven't noticed already, Meghan has to follow *a lot* of rules now that she's married to Prince Harry, Duke of Sussex. Meghan can't speak publicly about politics, for instance, and she can't wear colorful nail polish. The list goes on and on, people.
But one of the more infuriating stipulations Meghan must follow concerns her outfits. As it turns out, the Queen doesn't want women in her family to wear "trouser suits" in her presence. Sigh. Can't the Queen let a woman live?
"[Meghan] has found certain rules in the royal household difficult to understand, like the fact that the Queen prefers women in dresses or skirts rather than trouser suits, and is often asking Harry why things have to be done in a certain way," a source supposedly close to the royal family told People.
Unfortunately, there's no foreseeable solution to this dilemma. It's not likely Meghan is going to change the Queen's mind or anything — she seems to me like a person who isn't easily swayed.
"I think she finds it a little frustrating at times, but this is her new life, and she has to deal with it," the insider added about Meghan's predicament, according to People.
I don't think it's far off to say that Meghan's frustration in this situation stems from her feminist roots. "I am proud to be a woman and a feminist," Meghan said at the United Nations on International Women's Day in 2015, according to her royal website.
Meghan, similarly to other feminists out there, probably finds the Queen's clothing preference a bit unfair. Although a person's clothing doesn't dictate whether they're a feminist or not, the issue here is the Queen's rule doesn't leave a lot of room for personal choice. And feminism is largely about personal freedoms and the right to choose, to put it simply. Meghan, like any person out there, should be able to wear whatever she wants.
Plus, it seems as if the Queen's preference is influenced by the social construct of gender. It's possible the Queen finds dresses and skirts to be more appropriate for women, which is understandably frustrating. There is no correct way for a man or woman to dress, period.
To play devil's advocate, however, the royals must follow a strict dress code to present a united front for the public. And the Queen's preference for dresses doesn't mean she's not a feminist. In fact, the Queen is one of most influential women in the world — she took over the royal throne at age 25, remember?
Additionally, there are many examples of the Queen's feminism throughout the years, including her membership to the The Women's Institute (WI). The WI helps provide "women with educational opportunities and the chance to build new skills, to take part in a wide variety of activities and to campaign on issues that matter to them and their communities," according to its website.
So, I think it's safe to say Meghan and the Queen have more similarities than they do differences. Although the whole dress code thing is understandably annoying to Meghan, I bet she'll let it slide to respect the Queen wishes. There's a lot for Meghan to admire about the Queen, after all.