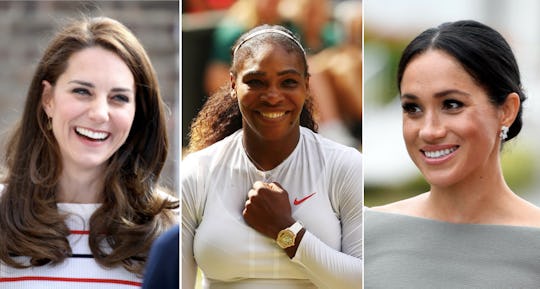 Matthew Stockman/Getty Images Sport/Getty ImagesPool/Getty Images Entertainment/Getty Images
Kate Middleton, Serena Williams & Meghan Markle Are Gathering For The *Best* Reason
Last week, when asked in a press conference if her friend, Meghan Markle — the Duchess of Sussex — would attend her Wimbledon match, Serena Williams didn't have a concrete answer for the world wondering. But on Thursday, Kensington Palace made the news official, and it won't just be the new duchess at the tennis match. In fact, both Meghan Markle and Kate Middlteon will cheer on Serena Williams at Wimbledon this year, because yes, dreams do come true.
This super trio will gather together at the ladies' singles finals on Saturday, July 14, when Williams will be playing Angelique Kerber, according to Entertainment Tonight. This is one of just a few events that Middleton will appear at during her maternity leave, The Express reported. More power to her considering how dressed up she usually is, I'd be at home on the couch in sweatpants as long as I could!
The Duchess of Cambridge will be just 12 weeks past the birth of her son, Prince Louis, and will also attend the mens' singles match the following day with Prince William, according to The Express. Middleton is a patron of Wimbledon, according to ABC News, so it does make a great deal of sense that she would appear at the event at some point.
An expert on the royals, Omid Scobie, mentioned on Twitter that prior to the women's match, the Duchesses will be meeting with former Wimbledon champions as well as ball boys and girls.
Though Williams was still unsure of Markle's attendance just a few days ago, a source reportedly told Entertainment Tonight last week that Middleton was planning to be there. She previously attended as a guest of Williams during the 2016 tournament, according to Entertainment Tonight. That year it was Williams who was a little starstruck when she was able to meet Middleton. Harper's Bazaar reported that she snapped a selfie with the Duchess of Cambridge and captioned it, "Okay, so I'm with the in crowd now…I'm with royalty!"
Entertainment Tonight noted that since the royal wedding, Markle has still made time for her friend, proving their bosom buddy status. They were recently seen together at a polo match played by Prince Harry, where they were joined by Williams' husband Alexis Ohanian.
This will be Markle's first solo outing with Middleton, according to People, though no doubt the two ladies have become fast friends behind the scenes of their busy lives. Markle has made some high-profile appearances as she settles into her new role and Middleton probably has a ton of great advice she's passing along. The Duchess of Sussex traveled with the Queen to central England for a day of events, according to The Express, even spending the night on the royal train. Can you imagine sitting with the queen in bathrobes to have a cup of tea?
Just a few days ago, Markle appeared with her husband, Prince William and Middleton at an event celebrating the 100th anniversary of the Royal Air Force, according to ELLE, where the sisters-in-law were practically mirrors of one another, gazing adoringly at their husbands. Fans of the Duchesses — and let's be honest, who isn't? — were thrilled with today's announcement.
Williams has been having a great run at Wimbledon. The Guardian reported that she has won 20 consecutive matches at the tournament, and if she wins on Saturday it will be her 24th grand slam title. She's admitted that it comes with some downsides too, though. On July 7, Williams tweeted that her daughter took her first steps, which she missed because she was training. "She took her first steps... I was training and missed it. I cried," Williams tweeted.
Still, the champion admits that it is a "pleasure and a joy" to be in the finals because "less than a year ago I was going through so much stuff," according to The Guardian. She's referring to the life-threatening blood clots and hematoma that developed following the birth of her daughter, according to Vox, conditions that required surgery and six weeks of bed rest.
It's great to see Williams back in good health and being rewarded for her determined hard word. And it's great to see the Duchesses enjoying one another's company. Now if the three of them post a photo together on the big day I want to be the first to predict that will, indeed, be the moment that breaks the internet.