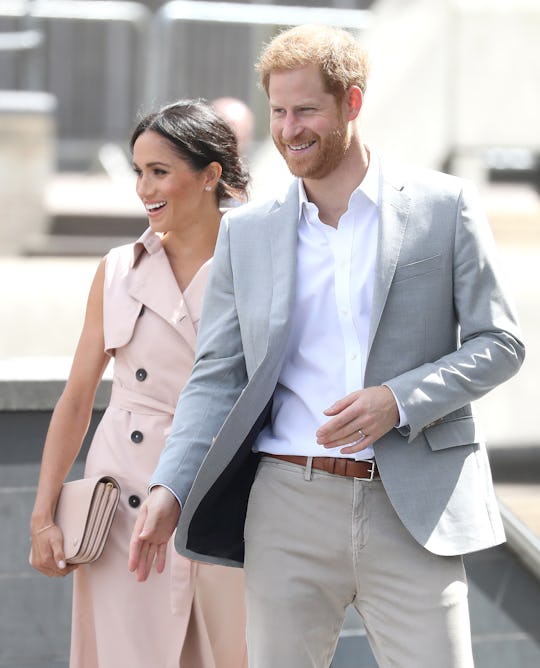 Chris Jackson/Getty Images Entertainment/Getty Images
Meghan Markle Gave Prince Harry A Super Sweet Smooch In Public
The Duke and Duchess of Sussex, Prince Harry and Meghan, have made waves for exhibiting PDA on multiple occasions. Fans have come to expect them to hold hands in public — something other prominent royal couples are almost never seen doing. But the latest example of the newlyweds showing their love for each other just may be the most noteworthy so far. On Thursday, Prince Harry and Meghan shared a kiss on the lips, and the video of their smooch is super cute.
Meghan cheered on Harry and his team, Sentebale St Regis, while they played a charity polo match at the Sentebale Polo Cup, the Daily Mail reported. In 2006, Harry and Prince Seeiso of Lesotho, a small African country, cofounded Sentebale, a charity that helps children affected by HIV/AIDS in Lesotho and Botswana, according to the charity's website.
Harry's team won the charity match 5-4, and Meghan was tasked with presenting the team with a trophy. After handing it to the team captain, model Nacho Figueras, and giving him an air kiss, Meghan turned to her husband and leaned in for a quick smooch on the lips. The couple was also spotted exiting the match hand in hand, after Meghan gave Harry a quick rub on the back. Cute!
Now, sharing a kiss during a public appearance is not a big deal for most married couples (especially one who is still in the honeymoon phase), but considering the way other royal couples usually act in public, the media and fans have become increasingly fascinated with Harry and Meghan's tendency to show physical affection for each other.
That being said, polo matches are one of few places where Harry's parents, Prince Charles, Prince Of Wales and Diana, Princess of Wales have shared several kisses, People noted. The outlet shared a collection of archival photos of Princess Diana handing Prince Charles awards after a slew of polo matches, in some of which the former couple shared a kiss.
In contrast to Harry and Meghan's PDA, his brother Prince William, Duke of Cambridge and Catherine, Duchess of Cambridge almost never even hold hands in public. In 2016, royal etiquette expert Myka Meier explained why that likely is. She told People:
There is no actual etiquette or royal protocol that says the couple must refrain from PDA ... The likely reasoning is more that while traveling on a tour such as the India trip, technically the couple are working representatives of British Monarchy. The couple are likely to show very little PDA, if any, to remain professional during their designated roles abroad.
But anyway, the kiss and Harry's victory were nowhere near the best parts of the day. The charity match helped raise more than £1 million (about $1.3 million USD) for children affected by HIV and AIDS in Lesotho, according to a tweet by Sentebale. Prince Harry and Prince Seeiso formed the charity in 2006, after Prince Harry spent a gap year in Lesotho. The two immediately bonded, as both had lost their mothers.
"There was obviously a connection between us," Harry said of Prince Seeiso in a 2016 documentary called Prince Harry In Africa, ABC News reported. "His mother stood for something and my mother stood for something as well."
Harry has opened up about his love for Africa on many occasions. "I have this love of Africa that will never disappear — and I hope it carries on with my children as well," Harry said in a 2017 interview with ITV, the BBC reported. He and Meghan also spent a lot of time together visiting Botswana, where he wound up sourcing a diamond for her engagement ring.
Look, I enjoy a cute smooch picture of Harry and Meghan just as much as the next person — but I just hope that fans don't let news of the couple's kisses overshadow their amazing charity work.