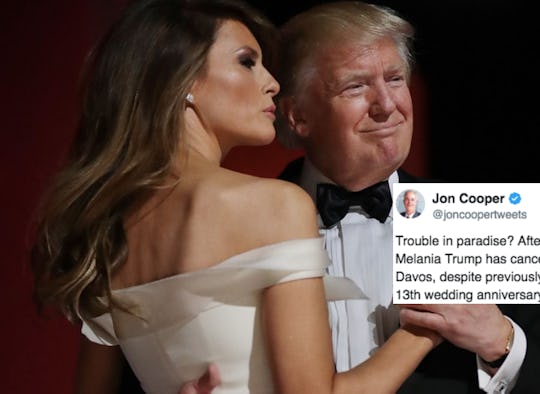 Chip Somodevilla/Getty Images News/Getty Images
The Trumps Didn't Post Anything About Their 13th Wedding Anniversary — & People Noticed
For eight long years, most of America collectively swooned at Michelle and Barack Obama's marriage and the very public displays of affection they shared with fellow Americans. Which might be why some people are totally confused that Melania and Donald Trump didn't celebrate their 13th anniversary on social media or make mention of it at all on Monday, as People reported. It's not like it's required that presidents be open about their relationships on Twitter or Facebook and be spotted out and about at a romantic dinner, but since the Obamas were so public on their own anniversaries and birthdays, people were wondering what was up. Romper's request for comment from the White House was not immediately returned.
It didn't help that Melania cancelled her trip to Davos, Switzerland, with her husband at the last minute, as The Washington Post reported. The president was initially postponing his attendance at the World Economic Forum given the government shutdown over the weekend, according to CNN. When it was resolved on Monday evening, though, he announced that he would be going but his wife would not join him due to scheduling conflicts, according to CBS News. So far, she's joined Trump on all of his foreign visits.
Over the weekend, she penned a tweet in honor of their first year in office, though she didn't mention her husband at all, nor was he featured in the image she posted. She tweeted, "This has been a year filled with many wonderful moments," she tweeted. "I've enjoyed the people I've been lucky enough to meet throughout our great country & the world!"
Kind Of Strange, Right?
The Obamas Were All About PDA
President George W. Bush & His Wife Laura Were, Too
So Was His Father, President George H.W. Bush
The Trumps' relationship has long been under scrutiny. People on social media noticed that during his inauguration, and some other public events, Trump never seemed to open a door for his wife or take her hand, as Vogue pointed out. At the first Women's March, as BET reported, some protestors held signs that insinuated she was being held hostage by her husband.
When she didn't move into the White House right away and remained in New York City so that her 10-year-old son could finish the school year, people again wondered if their relationship in trouble. Really, it's no one's business what their marriage is like, though given President Trump's proclivity for emotional tweet storms, it's not like he doesn't know how to send out a cutesy anniversary message.
Although it might seem minor, these shows of affection by the Obamas and even former presidents tend to instill a sense of normalcy and calm from the White House. It's sort of how the British Royal Family has so many rules about decorum and how they appear in public. It's old fashioned, perhaps, but it's nice when people can see their leaders act like, well, regular people. Happy, regular people. But, of course, that's not a job requirement.
People On Social Media Definitely Noticed
The recent allegations that in October 2016 Trump's legal team paid adult film star Stormy Daniels $130,000 as part of a nondisclosure agreement about a reported sexual encounter she had allegedly with Trump in 2006 aren't doing anything to help the rumors that there's trouble in the White House.
President Trump's lawyer, Michael Cohen, told the Wall Street Journal that Trump denies the allegations. "These rumors have circulated time and again since 2011. President Trump once again vehemently denies any such occurrence as has Ms. Daniels," he said. Romper's request for comment from the White House regarding these allegations was not immediately returned.
If anything, it has to be tough to be Melania, given all of the allegations of about her husband and the divisiveness of his election into the Oval Office. Whatever your opinion of her husband's politics, making assumptions about her marriage or blasting her on social media isn't something any of us should do. And do we really need the mushy anniversary tweets anyway? It might seem a bit odd, but there really are a lot more important things to worry about these days.
Check out Romper's new video series, Romper's Doula Diaries:
Watch full episodes of Romper's Doula Diaries on Facebook Watch.