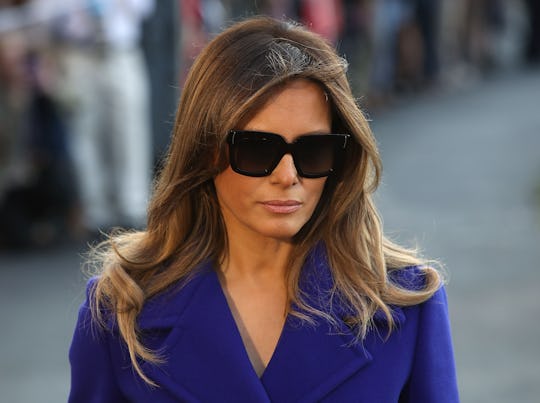 Mark Wilson/Getty Images News/Getty Images
Melania Trump Then & Now Photos Show Just How Much Her Life Has Changed
First lady Melania Trump remains something of an enigma to the American people. She is frequently seen at public events with her husband, President Donald Trump, but almost never heard. Always fashionable and well put-together, yet rarely forthcoming with the media. And I suppose it sort of makes sense, considering the massive changes in her life in the past few years and beyond. In her 47 years on the planet, she's gone from living a modest life in Slovenia to becoming the first lady of the United States. When you think about Melania Trump then and now, imagine what an almost incomprehensible culture shock it must feel like sometimes.
Melania was born Melanija Knavs in a small town called Novo Mesto in communist Slovenia in 1970 to parents Viktor and Amalija Knav, according to Biography.com. The former model is just the second first lady to be born overseas (the first was Louisa Adams, who was born in England in 1775). She began her modeling career when she was just 5 years old, as she explained to Parenting.com:
My mom was in the fashion business. I was 5 years old when I did my first catwalk and did commercials at 16. I went professional after my studies. My mom loved fashion, we loved to travel and go to Italy and Paris. It was something in me always.
By the time Melania Trump was 16 years old, she was modeling in the Slovenian capital of Ljubljana. Within a few years, she had moved further out to pasture, modeling in Europe and the United States, according to The New Yorker. She eventually attended university to study architecture and design, but left school when she signed on with an Italian modeling agency.
Melania moved to New York in the '90s on an H-1B visa, which allows "highly skilled workers" admittance into the United States. As Melania explained to Harper's Bazaar about her decision to move to the United States:
I came here for my career, and I did so well, I moved here. It never crossed my mind to stay here without papers. That is just the person you are. You follow the rules. You follow the law. Every few months you need to fly back to Europe and stamp your visa.
Melania was reportedly a sincerely hard worker, eschewing a party lifestyle for work and the gym. She did go to at least one party, however; she met future husband Donald Trump at The Kit Kat Klub in Manhattan at a party thrown by modeling agency owner Paolo Zampolli in 1998, according to Harper's. Despite Trump's interest in Melania, she initially didn't respond to his advances. But the two began dating, and Trump proposed the night of the Met Gala in 2004. They were married a year later.
Within a year of marriage, Melania welcomed her first child (and her husband's fifth), Barron Trump. And her life changed even more. She went from being an independent model to a stay-at-home mom. When he eventually started school, she worked on her jewelry line for QVC. But first and foremost, Melania seemed to relish the role of being Barron's mother.
The days of living a private life with her son in Manhattan are long gone now. As the first lady of the United States, every move she makes is watched with laser precision.
Every frown (and there appears to be more than a few, especially in the wake of persistent rumors that her husband may have had an affair while she was pregnant) is watched closely. Every inaction and action is cataloged and noted. Every potential slip of the tongue by either her or her husband is dissected by a watchful country.
It's a different world for Melania Trump. I wonder sometimes if she actually prefers this life, or the life she used to have.
Check out Romper's new video series, Romper's Doula Diaries:
Watch full episodes of Romper's Doula Diaries on Facebook Watch.