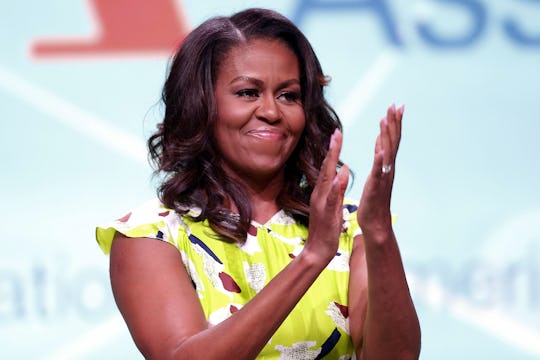 Jonathan Bachman/Getty Images News/Getty Images
Watch Michelle Obama & Tina Lawson Dancing At Beyoncé's Concert
When it comes to powerful, successful, iconic mothers, there are no two names that evoke quite as much reverence and love than the Obamas and the Knowles. The matriarchs of these families are here today with yet another lesson to share with the world, and it's that you always need to make sure you find time for yourself... and time to jam out with your favorite friends. That's why, of course, the internet has been having a heyday over Michelle Obama and Tina Lawson dancing at Beyoncé's concert together, because not only do they have amazing dance moves, but they are serving up some serious mom BFF inspiration.
Mashable reported that on Sunday, July 15, Michelle Obama took her daughter Sasha to see one of Beyoncé's shows while they were in Paris. (She's currently on tour with husband Jay Z.) However, the iconic moment went down when fans began to realize that the Obamas were seated next to none other than Tina Knowles herself. (If there's anyone more revered in this world than Bey, it's definitely Miss Tina.) Fans immediately started responding to the images on Twitter, saying things like: "The real presidents and first ladies of America," and "LEGENDS!" as they indeed are.
The Obamas and Knowles actually have been friends for years. In 2013, HuffPost reported that Beyoncé performed at Barack Obama's second inauguration, singing the National Anthem as he was sworn into his second term of presidency. However, the love between them doesn't even come close to ending there: in honor of her birthday two years ago, Michelle dressed up as Beyoncé, recreating her costume for the music video for "Reformation," CNN reported.
During an appearance on The Late Show with Stephen Colbert while she was still First Lady, Colbert asked who she'd take with her if she had to live on a desert island, and instead of saying her husband, Michelle said she'd pick Beyoncé. Later, she told Colbert: "She's a special person. She's a sweetheart. She's smart, she's creative, she's a great mother, she loves her family. She's just a low-key lady—we have a lot in common that way. Except I can't sing… I can't dance."
Later in the same interview, Michelle joked that while Malia will ask Barack serious questions about his work at the dinner table, she and Sasha will just sigh because what they really want to talk about is "their favorite songs on the Lemonade album." (It's not surprising then that it was Sasha who accompanied Michelle to the concert this weekend.)
But the familial friendship ties go even deeper than that, as The Washington Post reported that Barack and Jay Z are actually very good friends. Despite the fact that Barack was not present at the concert this past weekend, it's clear that he holds the rapper in very high regard, and feels that they have a lot in common. The newspaper quoted Barack saying:
I like to think Mr. Carter and I understand each other. Nobody who met us when we were younger men would have expected us to be where we are today. We know what it's like not to have a father around. We know what it's like not to come from much, and to know people who didn't get the same breaks that we did. So we try to prop open the door of opportunity so that it's a little easier for those who come up behind us to succeed as well.
Be that as it is, it's clear that the families have tons in common, if nothing more than that they are super fans of each other. It's amazing to see such inspiring, successful people hanging out and living out all of our wildest dreams.