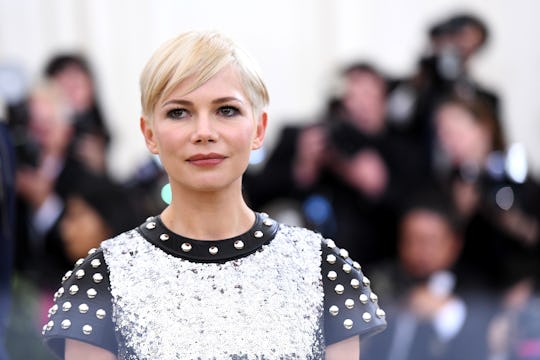 Noam Galai/Getty Images Entertainment/Getty Images
Michelle Williams Just Revealed She's Married Again In Emotional New Interview
If there's one thing that's true about love, it's that it doesn't follow a set timeline. Most of the time, you're hit with Cupid's arrow when you least expect it, despite what your plans may be. Just ask the star of My Week With Marilyn: Recently, Michelle Williams got married in a very private ceremony, 10 years after losing former partner Heath Ledger, according to Vanity Fair.
In an emotional new interview for Vanity Fair's September cover story, Williams revealed that she has married again, this time to singer-songwriter Phil Elverum, formerly of the Microphones who now records and performs under the moniker Mount Eerie. The couple, who met through a mutual friend, wed in a quiet ceremony in upstate New York, which was attended only by a small group of friends, and their two daughters from previous relationships, Vanity Fair reported.
Both Williams and Elverum had started their relationship as single parents. The Oscar-nominated actor is mom to 12-year-old Matilda with Ledger, who died in January 2008 of drug overdose. Elverum, on the other hand, has a 3-year-old daughter, Agathe, with his late wife, Geneviève Castrée, a Quebec-born artist and musician who passed away in July 2016 from pancreatic cancer, according to Pitchfork.
Williams, who is notoriously private about her love life, told Vanity Fair:
I never gave up on love. I always say to Matilda, 'Your dad loved me before anybody thought I was talented, or pretty, or had nice clothes.' 
The Brokeback Mountain star continued, according to Vanity Fair:
Obviously I've never once in my life talked about a relationship, but Phil isn't anyone else. And that's worth something. Ultimately the way he loves me is the way I want to live my life on the whole. I work to be free inside of the moment. I parent to let Matilda feel free to be herself, and I am finally loved by someone who makes me feel free.
It sounds like Williams is pretty lucky in love. How wonderful is that?
The newlyweds had kept their relationship under wraps up until this point. But there may have been a hint of a connection between the two on actor Busy Philipps's Instagram account, according to Stereogum.
Four months ago, Philipps, who's a close friend to Williams, posted a photo to Instagram from the March For Our Lives protest in Los Angeles. And standing next to her in the picture is Elverum, Williams's new husband, Stereogum reported.
The wedding doesn't only seem to be a fresh start for Williams. After all, Elverum, a lifelong resident of Anacortes, Washington, moved from his hometown to Brooklyn, New York this month to be with his new spouse, according to Vanity Fair.
The marriage also comes a few months after the 40-year-old musician released his 14th album, Now Only, the follow-up to 2017's critically-acclaimed record A Crow Looked At Me, Vanity Fair reported. Both albums are profound and heartbreaking explorations into the impact of Castrée's illness and the aftermath of her death.
Speaking about her final moments, Elverum told Pitchfork last year, when A Crow Looked At Me was released:
It's only the part about the last day that is seared into my head. It's on the album, though. I wanna get it out of me; I want the exorcism to happen. If talking about it or singing about it can accomplish that, I don't know. I feel proud of this thing that I've made, which is also perverse—there's a built-in conflict, which I don't know how to navigate.
It's so beautiful that Elverum and Williams have come together, and will now continue their journeys of healing on the same road. Congratulations to the newlyweds!