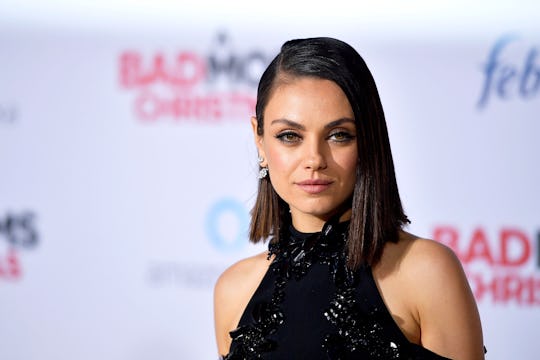 Matt Winkelmeyer/Getty Images Entertainment/Getty Images
Mila Kunis' Response To All Those Pregnancy Rumors About Her Is As Badass As You'd Expect
One of everyone's favorite celeb moms just got even more lovable. That's because Mila Kunis' response to the constant pregnancy rumors about her is honestly as badass as you'd expect it to be. In a new interview with Cosmopolitan, Kunis addressed the tabloid headlines that seem to know more about her body than she does, and she also talked about the fascination regarding her marriage to Ashton Kutcher. And basically, she frankly does not give a damn about what anybody else might think they know about her own life.
"I don't read anything about myself," 34-year-old Kunis told Cosmopolitan on how she survives the endless rumor mill. "I genuinely don't know what's written about me … other than I know that I'm pregnant about once a year and my husband [Ashton Kutcher] and I are getting a divorce once a year... I go down the grocery store aisle, and I see it on the cover of magazines and I'm like, 'Oh boy, OK!'"
Kunis — who's the mom of 3-year-old daughter, Wyatt, and 1-year-old son, Dmitri, according to People — revealed that although she's got a thick skin, she has trouble with the fact that friends and family hear things about her that may not be true. "...When I was pregnant, [the tabloids] said that I had an emergency and was rushed to the hospital, and my face was on the cover," she added in the same interview with Cosmopolitan. "The amount of stress that caused my family, nobody will understand."
Though, there's one person in the actress' life who wouldn't mind if just a little of the fake news were true: "My dad is always very hopeful that the pregnancies are true... He's always like, 'Is there really another?" she added in the same interview with Cosmopolitan.
Behind Kunis' fun-loving persona is one tough mama, who takes her family's privacy very seriously. In fact, Kunis and Kutcher have gone to great lengths to keep their young children away from the limelight. For example, in 2015, they threw off the media so they could get married in secret, as Kutcher told Ellen DeGeneres, according to ELLE, and later reached a settlement with Britain's MailOnline over unauthorized photos of little Wyatt, as the Los Angeles Times reported, after a paparazzo snapped intrusive photos of the family during a day at the beach.
"Ashton and Mila understandably value their private and family life, and in particular their personal time with their daughter," their lawyer told The Hollywood Reporter over the lawsuit, back in 2015. "Like any other family they should be allowed to enjoy family outings without being pursued by photographers."
Though Kunis ignores rumors about her and does everything she can to protect her children's privacy, she's not afraid to be outspoken about her rights as a mom, like the time when she hit back at breastfeeding shamers at the Bad Moms premiere in 2016. In an interview with Vanity Fair, she said that when she and Kutcher took Wyatt out in public as a baby:
... people actually looked at us in a shameful [way], and we were like, "Oh my God," because it's so not a sexual act. It didn't matter to me what other people thought. That's what I chose to do, but I think it's unfortunate that people are so hard on women who choose to do it and do it in public....If it's not for you, don't look.
No matter what life throws at Kunis, it's clear that she is one fierce, loving, and fabulous mom, and that's just one of the many reasons the world can't get enough of her.