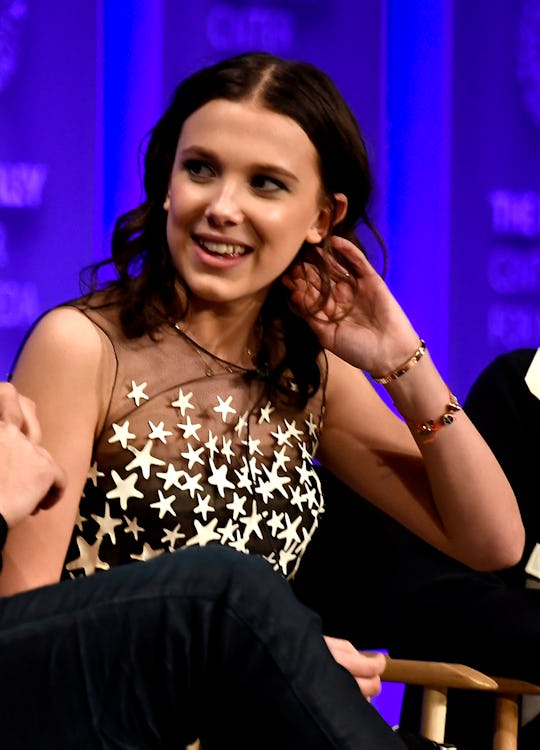 Frazer Harrison/Getty Images Entertainment/Getty Images
Millie Bobby Brown Opened Up About Her Breakup With Jacob Sartorius, But She Shouldn't Have To
With Stranger Things having become such a hit, the cast of the Netflix series has been thrust into the spotlight at a young age. It's easy to flip through magazines at the supermarket, or your social media feed at home, and read the latest about these up-and-coming teen stars with genuine curiosity. After all, their characters are intriguing, and they all have genuine acting chops. But rarely do we question what it must be like to juggle growing up in the spotlight. For example, on Tuesday, Millie Bobby Brown opened up about her breakup with Jacob Sartorius after seven months of dating. Though her openness is probably appreciated by fans, the 14-year-old actress really shouldn't feel that she has to set the record straight, nor should anyone expect her to.
On July 31, Brown confirmed on Instagram that her relationship with Sartorius, a singer, has officially ended, according to Us Weekly. "The decision with jacob and i was completely mutual," the actress wrote in a statement shared on her Instagram Story on Tuesday. "We are both happy and remaining friends."
Meanwhile, on the same day at about the same time, Sartorious — who had a hit with the song "Sweatshirt" in 2016 — posted an almost identical message on his Instagram Story. "The decision w mills was completely mutual & we are both happy and remaining friends," he wrote.
While it's certainly impressive how they both handled the breakup in the public eye and the wisdom they displayed in knowing when to call it a day (and remain friendly), it's important to remember they're both still kids and it seems like neither of them should have to explain anything, especially when it involves their personal lives, to the outside world.
As parents, we hope our kids feel comfortable to have open communication about what's going on in their lives, but that's not to say the same goes for their, in MBB's case, millions of Instagram followers. Of course, it's always a choice to be on social media and to post personal photos and info about yourself. And that can be a hard balance for anyone, but finding this balance has got to be much harder when you're young, and still getting to know yourself.
Brown and Sartorius' relationship has been a topic in the media ever since it began. The two young stars started to get to know each other late last year, according to People, and went on to exchange Valentine's Day messages on Instagram. A week later, Sartorius wished Brown a happy birthday with a gushing post:
Happy birthday to this beautiful girl, 14!! you're the funniest, most caring person in the entire world. I hope this year brings you lots of great memories and moments you remember forever. Can't wait to see you, I love you and miss you so much!!
According to Us Weekly, the pair also celebrated New Year's Eve together at Walt Disney World in Orlando, Florida.
Yes, both Brown and Sartorius are celebrities and public figures and choose, seemingly with their parents' blessings, to share their lives with their fans on social media. But given that the world already rushes kids to grow up too fast, this seems to highlight a cultural paradox of fans' expectations from celebrities, let alone when it involves young stars, when it comes to sharing the inner workings of their personal lives — relationships, breakups, and all.
At 14, Brown seems to understand to power of her celebrity and she makes her decisions wisely. For example, as she recently explained to W magazine, the reason why she wore a denim shirt with the names of the Parkland shooting victims on it to win her Kids' Choice Awards in March was because she understands that fame carries with it the ability to make a difference. "I take my responsibilities seriously," she said. "I recognize that I have a voice, and I want to use it wisely."
Brown continually impresses the world with her talent, wisdom, and maturity. And because it's clear she — with her starring role as Eleven on Stranger Things — is only getting started when it comes to her acting career, hopefully any pressure she may (or may not) be feeling from fans and the media will lighten up a bit. At the end of the day, no one should expect a 14-year-old, even one with a public persona, to be transparent about their personal lives. As the old adage goes, let kids be kids.