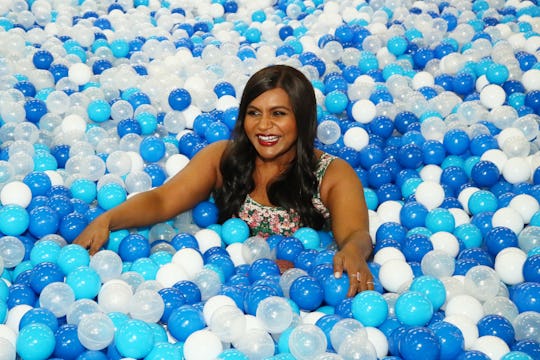 Astrid Stawiarz/Getty Images Entertainment/Getty Images
In Case You Were Curious, ​Mindy Kaling Has The *Sweetest* Nickname For Her Daughter
Pretty much everything that Mindy Kaling has revealed about motherhood is proof that she's totally owning it as a single mom. Every time she speaks publicly about her daughter, Katherine, she's so full of affection and respect for this new little life, it makes everyone wish she was one of their mom friends. The multi-talented actress has been on a winning streak lately, with her roles in A Wrinkle in Time and Ocean's Eight, and her TV series Champions. And just in case you were wondering, just like everything else the actress touches, Mindy Kaling's nickname for her daughter is as perfect as can be .
On her Instagram Stories this weekend the actress/writer/producer showcased her baby food making expertise, whipping up some banana date peanut butter for her 8-month-old daughter. Not going to lie, I prefer my peanut butter made from chocolate and cookie butter, but I respect Kaling's self-discipline to not feed her daughter garbage. On one post on her Story on Sunday, she included the note, "Kit will LOVE this!" confirming her daughter's nickname yet again. Kaling previously revealed her daughter's nickname in an interview with SELF in May, but it seems like the sweet moniker has definitely stuck!
Kaling gave birth in December to the little girl, whom she named Katherine Swati Kaling. "Swati" is a tribute to Kaling's mother, who passed away from pancreatic cancer in 2012, according to People. She told TODAY that she simply chose Katherine because she liked it. "I always liked the name. I have a lot of great Katherine and Katies in my life," she told TODAY.
Though she hasn't been romantically linked to anyone publicly recently, she has previously been open about her desire to have children. For example, in a 2015 interview with E! News, she said she wasn't going to stress about it. "I think I've decided that unlike everything else in my life, I'm going to be fast and loose about kids," she told E! News. "I'm going to not actively plan, but if it happens, it would happen."
Whether this baby was planned or not remains untold and remains none of the world's business, along with the identity of the baby's father. According to People, Kaling has not told anyone, even close friends, who Kit's dad is. While that might be a tough decision for friends and family to accept, her desire for privacy on the matter should absolutely be respected.
Though she chooses to keep those details private, she does share some sweet tidbits about her daughter. Like a photo of her awesome baby stroller that would make even Mindy Lahiri proud.
But Kaling has good reason to keep her child private — she knows how cruel social media can be, especially to celebrities. "People say, 'Did you even have a baby?'" Kaling joked on TODAY. "I'm keeping her under wraps for now. I would kill someone who said anything about her." She doesn't judge other parents who make other choices for their kids, the outlet reported, but she knows her own limits, "I'm such a worrier — I can't do that. I'm far too fragile," she told TODAY. "She'll be big enough and people will see her. Am I even doing the right thing? Maybe she'll be mad at me later on but I'll deal with it then." That's the spirit!
For now Kaling is more than fulfilled just showing off her love for making baby food on her Instagram Stories. A couple weeks ago, she shared how much she loves doing meal prep for her daughter, although she never did anything of the sort for herself before Katherine.
"I know that there are so many prepared, organic baby foods out there that you can buy buy but because I work I like making them on the weekends because it makes me feel like I'm part of my daughter's life," the actress said on her Story, which the Daily Mail conveniently compiled and shared on YouTube:
Though everyone is dying to get a glimpse at Kaling's undoubtedly beautiful little girl, the world loves the actress so much, it just seems natural to want to respect her privacy and her choices. For now, her fans will just keep lapping up those recipes and sweet tidbits about motherhood as fast as she wants to share.