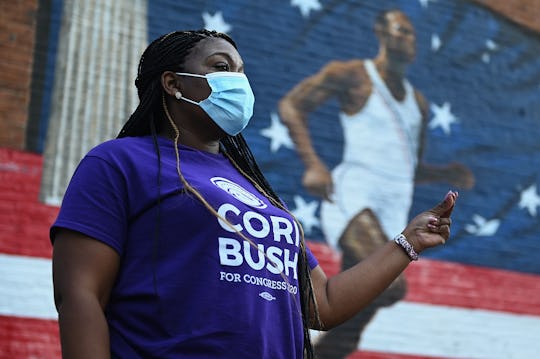 Michael B. Thomas/Getty Images News/Getty Images
These Moms Ran For Office In The 2020 Election — & Won
While the 2020 election has demonstrated just how divided the country remains on a number of important issues, it also has highlighted that voters value multitasking, cut-through-the-nonsense candidates. Like the many moms who were elected to office in 2020 on both sides of the aisle.
The 2020 election saw the re-election of several mothers in office, including Democratic Speaker of the House Nancy Pelosi, who once credited her five grown children in an interview with The Washington Post with helping her become a better politician.
Members of "The Squad" were also victorious on Tuesday. Michigan Rep. Rashida Tlaib, who has two young sons who famously dabbed in the House when she cast her vote for Pelosi in 2018, and Massachusetts Rep. Ayanna Pressley, who has talked about importance of her role as a "Bonus Mom" to her stepdaughter Cora, were both re-elected. So was Minnesota Rep. Ilhan Omar, who has previously said how she's been inspired by her teenage daughter to be proactive in politics. Georgia Rep. Lucy McBath, who lost her only son, 17-year-old Jordan Davis, when he was shot and killed by a white man in 2012, will also serve another term.
Voters also selected a number of newer names who happen to be mothers as well. Here's a look at who's been elected.