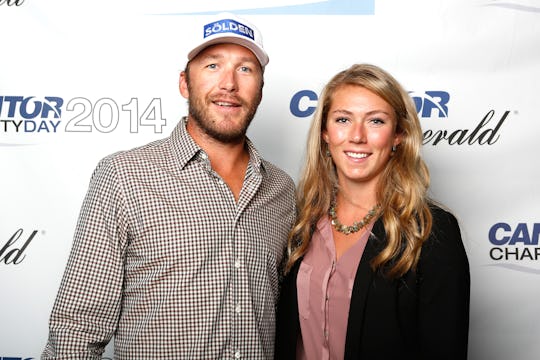 Mike McGregor/Getty Images Entertainment/Getty Images
Bode Miller's Wife Speaks Out About Child Drownings Following Their Toddler's Tragic Death
Olympic skier Bode Miller and his wife, professional volleyball player Morgan Beck, experienced the unthinkable this year. Their little girl died in a tragic accident. I don't know how they're managing to walk and talk and be every day with that sort of loss. Just scrolling through Beck's Instagram and seeing pictures of her daughter was enough to have me in tears; I can't imagine what it must be like for her. And yet. She spoke for the first time about her daughter's tragic death for a truly inspiring reason. Bode Miller's wife is raising awareness about child drownings, and it's the most unselfish, heartbreaking things I've seen in quite some time.
On June 9, Morgan Beck and her 19-month-old daughter Emeline were visiting a friend's house in Orange County, according Inside Edition. Beck was chatting with a friend in the kitchen when she reportedly realized her daughter wasn't beside her anymore. In a matter of moments, Emeline had gone outside and was unresponsive in the backyard pool, according to People. Just a few moments, and she was gone.
The couple, who share three older children and are expecting another baby in October (Beck is about six months pregnant, according to People) were justifiably devastated. In fact, Morgan Beck has not spoken publicly about the loss of her little girl. Until now.
On Wednesday, July 18, Beck took to Instagram to share a photo of Emeline and a message about the dangers and risks of childhood drownings. "It's been 37 days since I've held my baby girl. I pray to God no other parent feels this pain," she began.
Beck was apparently inspired to open up for a few reasons, one of which being a fellow mom who also lost her child because of an accidental drowning. Nicole Hughes from East Tennessee, who lost her 3-year-old son Levi when he drowned in a pool on vacation in Alabama in June. According to local news outlet WBIR, Hughes is spreading the message that these tragic incidents can happen in a matter of seconds. As she told the news outlet, her son had barely left her side when she realized he was missing. "And I leaned over the balcony, and then, I mean, I saw him in the water," she told WBIR. "It was just an instinct to always check the water because I knew about water safety."
Levi had fallen into the deep end of the pool and could not be resuscitated, according to WBIR, much like Emeline Miller. In the wake of this tragedy, Hughes started a non-profit water education organization, Water Guardians: Levi's Legacy that is working toward encouraging parents to stay vigilant around water.
Their shared experience had Morgan Beck reaching out to Nicole Hughes in her Instagram post, writing, "My heart is with you @nicolehughes8 as we walk this journey together."
Unintentional drowning is the number one cause of death for children between the ages of 1 and 4, according to the Centers for Disease Control and Prevention. And yet it's something that few parents discuss, as Beck pointed out in her Instagram post:
Drowning is the NUMBER ONE cause of death in children ages 1-4. We talk about vaccinations, car seats, organic foods, screen time, etc at length...but not the number one risk your childrens' lives face...a silent killer. It takes SECONDS. Please share and help us spread awareness. It's the first step to preventing these types of tragedies.
The Miller family was already making water safety a priority, with Bode Miller donating the proceeds of a recent GoFundMe campaign started in memory of Emeline towards water safety education. But the courage and resilience of both Morgan Beck and Nicole Hughes really drives home the message. That it only takes a few seconds to change everything.
It's something no mother should ever have to go through. And the fact that these mothers are channeling their grief into trying to help other families is truly inspiring.