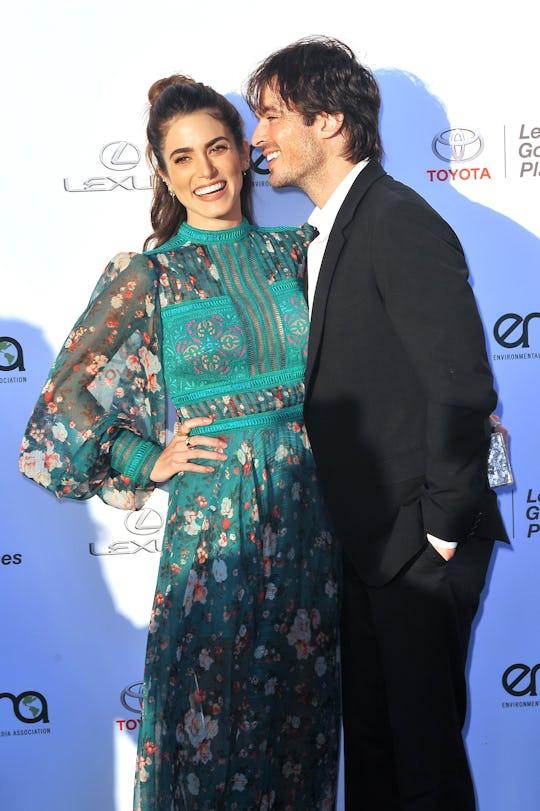 Jerod Harris/Getty Images Entertainment/Getty Images
Nikki Reed Gets Candid About Motherhood For Bodhi Soleil's First Birthday
It goes without saying that every parent wants to protect their child at all costs. For some celebrity mothers, like actor Nikki Reed, that means rarely — if ever — sharing news about your little one on social media or with the press. But this week, Nikki Reed revealed a rare update on daughter Bodhi Soleil in honor of her first birthday.
Reed and her husband, fellow actor Ian Somerhalder, welcomed their baby girl, Bodhi Soleil Reed Somerhalder, on July 25, 2017. But the couple had kept fairly quiet about their daughter since the Twilight star gave birth, only posting the most obscure photos of their little one, like this adorable toes shot, according to E! News.
On Friday, though, Reed took to Instagram ahead of Bodhi's birthday to share intimate details about her motherhood journey so far. The 30-year-old O.C. alum posted to her Instagram account a very personal year-old photo showing a naked and pregnant Reed as she and Somerhalder, not present in the shot, prepared for their daughter's arrival.
Reed began her Instagram caption, according to The Daily Mail: "What soap do I use to wash all her clothes? How do I know what to bring? Will I be able to have a home birth?"
Reed continued:
That's the plan but can you really plan? Holy shit this baby has to fit through... there? But what if I don't know how to do this?
In a way, Reed's Instagram caption doubles as a diary entry that I am certain all parents have written at one point or another. (I know I have.) The Twilight star becomes candid about all the anxiety and fears she felt — and still feels — about parenthood, including her worries that she wouldn't be able to breastfeed Bodhi, according to The Daily Mail.
Reed wrote:
The internal dialogue that found its way to me in the last two weeks of us sharing the same body, coupled with having to pee every 15 minutes, an achey lower back, still going to work everyday plus hospital related fears was at times all-consuming. Still I had no idea what was right around the corner. Most of what I anticipated didn't happen, and everything I didn't think of did. What a beautiful lesson right? You can prep and plan and talk and cry, and somehow a surprise will still find its way in.
It turns out, though, that Reed was able to nurse Bodhi. And as she revealed on Instagram, she is still breastfeeding her daughter almost exclusively a year out, according to E! News.
Reed wrote on Instagram:
The woman in this photo who was nervous about being able to breastfeed now has an almost 1 year old who still isn't interested in eating solid food. Yes, you heard me, I am still almost exclusively nursing because that is what my child wants, and I'm along for the ride.
Although not every parent can or wants to nurse, studies have found that breastfeeding provides optimal nutrition for babies. Data from the U.S. Centers for Disease Control and Prevention shows that about 81 percent of parents start out nursing, but nearly 52 percent continue to do so for the first six months. Less than a third nurse their infants for 12 months, according to the CDC.
Whether you nurse or formula-feed, one thing is clear: Parenthood is as hard as it is rewarding. And it seems Reed understands that intimately. The Thirteen actor ended her Instagram caption with a thoughtful message that all parents need to hear, writing:
To all the mamas out there I am so inspired by what each and every one of you went through to bring your little one into the world. May we continue to speak openly, asking questions and sharing experiences. And may we continue supporting each other with a gentleness rooted in strength and wisdom.
I couldn't have written that better myself.