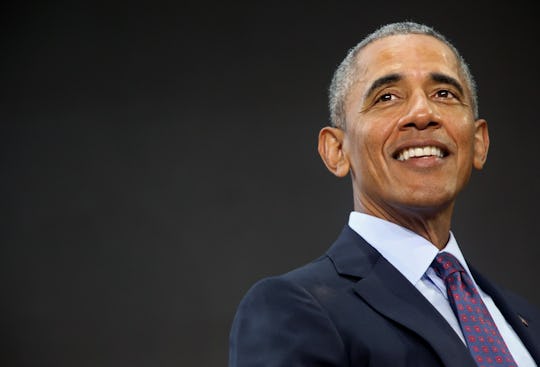 Yana Paskova/Getty Images News/Getty Images
Obama Dancing With His 96-Year-Old Step-Grandma In Kenya Will Instantly Make You Smile
Recently, President Barack Obama made another trip to Africa for the celebration of what would have been Nelson Mandela's 100th birthday and some other events. During one event in Kenya, Obama decided to put some of his moves to the test again and, luckily, there's video of it. And really, this video of Obama dancing with his step-grandma in Kenya is exactly what you need to see.
On July 16, according to Yahoo!, Obama attended the launch of a youth sports, resources, and education through the Sauti Kuu Foundation, which does work in both Kenya and Germany. Obama's older half-sister, Dr. Auma Obama, serves as the chief executive of the foundation.
The event took place in Kogelo, Siaya County, as reported by Kenyans. It is the same village where his father, Barack Obama Sr., was raised, according to PopSugar. Obama went to the event both to support his sister and to give the keynote address at the end, according to TIME. But, before doing so, he of course had to hit the dance floor.
With traditional music playing in the background, Obama stood to show off a few of his dance moves. After, according to TIME, his 96-year-old step-grandmother Sarah Onyango Obama stood to show off her moves, too.
And people were loving the dance!
When Obama finally took the podium after his sister, Kenyan reported that he was welcomed with ululations from the crowd. "It is good to be back. It's joy to be back with so many people who are family to me and so many people who claim to be family to me. Everybody is a cousin," Obama remarked, according to Kenyan.
This trip was the former-president's first return to Kenya since leaving office. As reported by People, he last visited when he was president in 2015. During his keynote address, Obama also shared some nostalgic stories about his first time visiting Kogelo when he was 27 years old, according to PopSugar.
"The train went very slowly," Obama reportedly said, according to Kenyan, while narrating his trip from Nairobi to Kisumu. "Then we took a bus in Kisumu, this wasn't a fast bus. There were some chickens at my legs and sweet potatoes digging at my side. Then we boarded a matatu and it was more crowded than a bus."
Perhaps the sweetest moment during Obama's speech, though, was when he recounted a time when he asked his sister, Auma, about her dreams. As Kenyan reported, Obama recalled her response as, "Barack, my biggest problem, Barack, I have too many dreams."
"Today," Kenyan reported Obama as saying, "her dreams have come true. Today we open Sauti Kuu Foundation sports, resource, and vocational training center."
After the event in Kenya, Obama traveled to Johannesburg, South Africa to deliver a speech for Mandela Day. Mandela was born on July 18, 1918 and lived until Dec. 5, 2013, according to his biography. The event was to commemorate what would have been Mandela's 100th birthday.
During his speech, Obama offered a somewhat veiled rebuke of his successor's politics. Although he didn't mention Trump by name, it was still pretty clear given the circumstances. "Given the strange and uncertain times that we are in — and they are strange, and they are uncertain; each day's news cycles bringing more head-spinning and disturbing headlines — I thought maybe it would be useful to step back for a moment and try to get some perspective," Obama said, according to People.
Obama's speech came shortly after Trump met with Russian President Vladimir Putin in Helsinki, Finland. Trump faced heavy criticism following the meeting after he seemingly accepted Putin's denial of interfering in the 2016 presidential election, according to the BBC. In addition, Obama warned of "strongman politics" and, as CNN noted, continued criticizing Trump's policies without mentioning the president explicitly by name. It's a strategic move and, ultimately, a good one.
It's a heavy world to live in, now, which is what makes spending time with family, including chosen, all the sweeter. And watching Obama dance with his step-grandmother is a good reminder of how to relax in such stressful times.