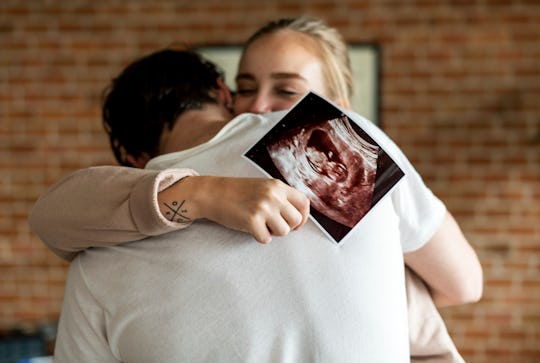 Shutterstock
11 Ways Dads Can Help With Prenatal Depression, According To An Expert
Pregnancy is an arduous physical and emotional process that's rarely, if ever, described as "easy." But pregnancy impacts people differently, and many people will experience depression during pregnancy. Since there's no way of knowing how any one pregnancy will play out, it's important to learn the ways dads can help with prenatal depression so that, regardless of what occurs in those 40 weeks (more or less) of gestation, the person going through the pregnancy is supported.
Prenatal depression is one of the most common medical complications of pregnancy, according to the March of Dimes, and affects up to one in seven pregnant women (about 15% of pregnant people). Dr. Katherine J. Gold, MD, MSW, MS, a physician-researcher and Associate Professor of Family Medicine, Obstetrics, and Gynecology, tells Romper that many of her patients describe moments during pregnancy when they feel down or discouraged, but prenatal depression is different.
"It's when patients tell me that for more than two weeks, they have had more down days than up days, that they feel sad, tearful, have lost interest in their usual activities, or even are feeling so bad they are thinking about hurting themselves," she says. While all of us can feel bad, even during pregnancy, Gold says that when those feelings are persistent, physicians start to worry.
Prenatal depression can look different in different people, the severity can vary, and it can co-occur with other perinatal mood and anxiety disorders (PMADs). It can also be difficult to differentiate between the regular struggles of pregnancy and prenatal depression, even (or especially) for the person experiencing it.
Gold, who is a member of the University of Michigan Depression Center and the medical director of Luke Clinic, a free prenatal/infant care clinic in Detroit, says that sometimes her patients are embarrassed to talk about these feelings. That's when a soon-to-be dad or partner can help. "A partner who comes along and says, 'I'm worried about so-and-so and this is why,' sends a message of caring and can help a reluctant patient talk about what they are struggling with," she says.
If you and your partner are preparing your home for a new baby, it can be difficult to find the time for self care, or to check in with and take care of each other. But, when prenatal depression enters the mix, dads, partners, and other non-birthing co-parents have an important role to play in supporting a partner with prenatal depression, and can help in the following ways:
This article was originally published on