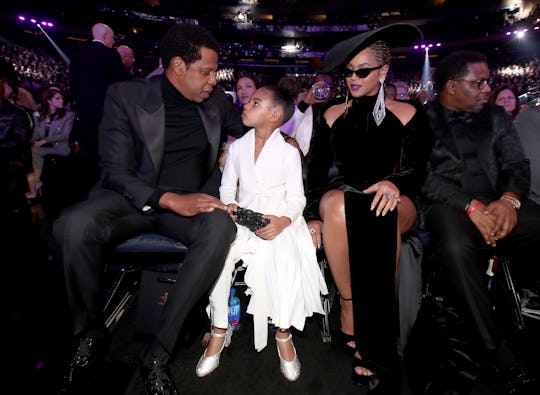 Christopher Polk/Getty Images Entertainment/Getty Images
People Are Making Fun Of Blue Ivy For The Size Of Her Feet & It's *So* Wrong
Because people can be generally terrible on social media, instead of just being excited to see the Carter family at the Grammys, there are actual human beings on Twitter making fun of Blue Ivy for her feet. Yes, really, we've come to a point where picking on a t-year-old's shoe size is an acceptable way to spend a Sunday night, since body-shaming can never start too early, right? Ugh, give us a break.
For one, it's hard to imagine that anyone can look at a picture of JAY-Z, Blue Ivy, and Beyoncé at the Grammys and find any fault with it at all, and not just be excited that Blue and Bey finally made it to the show, since they were conspicuously absent for the first half the award ceremony and, just in case you don't know, there's no award show without the Queen.
Some people just can't let a little girl live.
Even if people are well-intentioned and just teasing, it's still a really disappointing line of "joking around" to take. Blue is super cute, and there are tons of things to say about her presence at the Grammys, like how she seems to be telling her parents to chill out and quite frankly, refuses to just sit still. Blue Ivy — just like regular kids!
Instead, people are picking at her appearance, and sadly, it's probably not the last time she may be poked at by the general public for her body and how she looks, because people can be so cruel. If she were a boy, would her foot size be the topic of ridicule?
The saddest thing about the tone of the "jokes" was that people were all of a sudden no longer "stanning" Blue because her feet were too big, while others expressed fears that their own daughters wouldn't end up as "dainty" if they had tall parents. Both things are pretty terrible, especially to think that one day Blue might grow up and read tweets that tell her that people won't like her if she has big feet or that a body has to look a certain way to be "ladylike." These seemingly funny cracks about her feet are way more problematic than they might seem.
Of course, Blue Ivy is very, very lucky to have a woman like Beyoncé as her mother and dad like JAY-Z who will very, very likely make sure that she grows up feeling sure of herself, as it were, and teach her that haters don't mean anything.
Still, though, of all the things to pick apart on Grammy night — SMDH. It sort of makes you realize the extent to which celeb parents are protecting their kids by keeping them out of the spotlight and off social media. Beyoncé and JAY-Z are grownups and asked for the spotlight, but their kids didn't. The more people rip their precious little Blue apart, the more hypocritical the chorus of people asking to see pictures of Rumi and Sir, seem. Outside of that pregnancy shot, the public has yet to see the twins born this summer.
Blue Ivy will hopefully be protected for as long as possible by her parents, who just swoon over her. Beyoncé once told Oprah Winfrey:
"My daughter introduced me to myself. You know, my mother and I are so close, and I always prayed that I would have that type of relationship with my daughter. And she's still a baby, but the connection I had with her when I was giving birth was something that I've never felt before."
With all that love and power surrounding her, hopefully Blue Ivy will know that her feet, and everything else about her, are absolute perfection as she grows up. Before she logs onto the internet, let's hope she knows that it can be a really tough place, but that it doesn't make it right.
Check out Romper's new video series, Romper's Doula Diaries:
Watch full episodes of Romper's Doula Diaries on Facebook Watch.