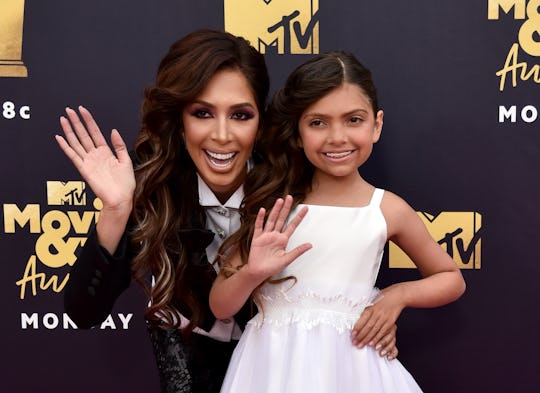 Alberto E. Rodriguez/Getty Images Entertainment/Getty Images
People Are Outraged Farrah Abraham Filmed Her Daughter Crying Over Their Dog's Death
Just when you think Teen Mom alum Farrah Abraham has reached the height of controversy, she does something else to outrage fans. Recently, this video of Farrah Abraham's daughter mourning their dog's death made its way to her followers' newsfeeds, which showed her 9-year-old child, Sophia, quietly crying over her deceased dog's body. Although her followers' outrage is completely understandable (the video is upsetting, indeed), one has to take into consideration Abraham's longtime career as a reality television star and what she and the public view as personal boundaries. Abraham did not immediately respond to Romper's request for comment on the controversy.
If you follow Abraham on Instagram, then you're probably familiar with her 5-year-old dog, Blue. Unfortunately, Blue died on Wednesday when his heart suddenly stopped beating, according Abraham's Instagram post. Not too long after Blue died, Abraham recored a video of herself and Sophia grieving. The emotional clip shows a tearful Sophia gently hugging Blue's tiny body, while Abraham breaks down in sobs. " ... this is like our first puppy that we've ever lost," Abraham said at one particularly emotional moment in the Instagram video. "Sophia and I have been through a lot of firsts. It's been crazy."
The video is painful to watch, but it's especially heart-wrenching to see the hurt in Sophia's eyes. No one likes to see a young child cry, let alone cry over the death of a beloved pet. It's difficult to watch.
But the most troubling aspect of the video, as viewers noted, is the lack of privacy. Every person deserves to mourn in private, and hopefully Abraham asked Sophia for consent before filming. Following the controversial post, many people expressed their anger in the comments section.
"It's so sad what social media has come to today," one person wrote on Instagram. "No one has private moments anymore. some moments are meant to not be filmed and placed for everyone to see. its [sic] disgusting."
"Wtf do u really have to film everything omg can't you keep anything private???" someone else wrote. "Why would you post your child crying ?? One day she's going to HATE you more then [sic] you hate your mom."
" ... perhaps instead of filming she should consider consoling her young daughter. That's what you do when your a parent. You have to be there for your kid ...," another wrote.
Another person chimed in, "Why are you filming a private moment? Take the time to spend with your pet and your daughter, not film it."
Others, however, weren't so quick to pass judgement. As one fan reasoned:
Whether you would have chose to film or not or whether I would have chose to film or not is irrelevant unless it's dealing with our lives. She chose to film it, who knows there could have been tons of loving kisses before or after. But it doesn't make her any less of a parent because she chose to do that. Just as it would not make someone else any less because they chose not to. She can grieve how she wants. She can choose to comfort her child how she wants. And sometimes that can be a very tough pill to swallow ... One thing I know for sure mom shaming has to stop. We don't all have to agree, but judging is not in the gray, it's one of the things that's not ok.
Another person added, "Filming has been a part of her life since she was 16 years old. So it is what she does it's her go to. Also who are you to judge how anyone grieves..."
Although both sides of the debate are reasonable, Abraham's defenders hit on some particularly important points. For starters, everyone grieves differently. And since the two are so used to filming, it might be a source of comfort for them.
Additionally, Sophia and Abraham are no strangers to filming exceptionally painful moments. MTV often captured the two visiting the grave of Sophia's father, Derek Underwood, who died in a car accident at age 18. Filming tough life events is nothing new to Abraham and Sophia.
One of the sadder things to consider is the lack of support Abraham seemingly has in her life right now. Not only is Abraham on the outs with her mom, Debra Danielsen, according to People, but public opinion is often largely against her. It's possible Abraham shared this video because she felt this was an appropriate outlet for her to express her grief.
No matter where you might stand on this issue, most can agree Sophia's well-being is extremely important. And hopefully Sophia is getting the love and support she needs in the days following Blue's death, no matter what that might look like.