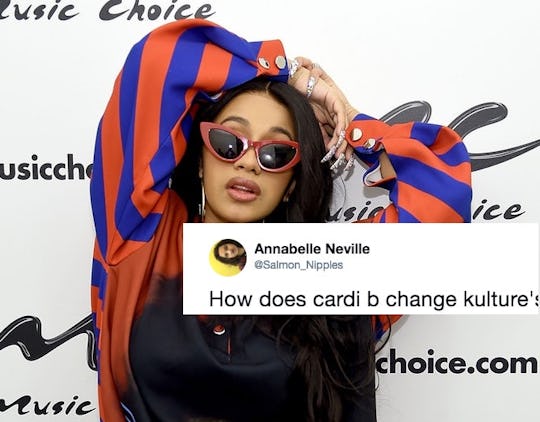 Jamie McCarthy/Getty Images Entertainment/Getty Images
People Are Worried About Cardi B's Long Nails For A Truly Ridiculous Reason
Rapper Cardi B welcomed a baby girl on July 10, and, like any new mom with a social media presence to uphold, has been posting regular updates on the adjustment to life with a newborn. And people have a lot of feelings about those updates, and about some of the changes they feel she should make since having a baby. People are particularly worried about Cardi B's long nails, which she's sported for a long time, so the concerns are a little bit ridiculous to say the least.
The 25-year-old mom, whose real name is Belcalis Almanzar, and her husband Offset of the hip hop group Migos welcomed their first child earlier this month, according to People. They named her Kulture Kiari Cephus, which is sweet since her father's real name is Kiari Cephus. Kulture is Cardi B's first child, and the fourth child for Offset; he has three other children from previous relationships, his sons Jordan and Kody and a daughter named Kalea Marie, as People reported.
Cardi B is known for a lot of things, and her elaborate nails are definitely a part of her image. And her nail artist, Jenny Bui of Nails on 7th, told Refinery29 that the nails won't be going away just because Cardi B has welcomed a baby girl. Still, a bunch of strangers on the internet apparently have a lot of concerns about that.
When it comes to Cardi B's nail habits, Bui told Refinery29 on July 13, "Nothing is changing. She should be here in the next two or three weeks."
Cardi B herself had some worries about her nails, if her own Instagram is any indication. On July 8, she posted a photo of Puerto Rican singer Ivy Queen where the singer was sporting long nails, and captioned it, "ME AS F*CK !!!!❤️Inspiration ! I wonder how I'm going to manage after my baby comes 😓 #IVYQUEEN@ivyqueendiva."
Bui isn't concerned that the nails will be any problem for her long-time client who's also now juggling motherhood. "She's had those nails for so long, she'll know how to manage," Bui told Refinery29.
Obviously, a lot of things change when you become a parent. But I agree that Cardi B has probably done all sorts of tasks with those nails, and if she wants to, she'll manage to do things like change diapers or dress Kulture with them on just fine. And as shared on Instagram on Saturday night, it looks like she's managing diaper duty just fine. "Time to change my lil stink," Cardi B captioned a boomerang of her nails and a clean diaper.
A lot of people on Twitter have a different opinion, however.
"Quick question, how the f*ck is Cardi B changing her baby's diaper with those long ass nails?" one person tweeted. And another posted a screenshot of the image from Cardi B's Instagram story above and tweeted, "@iamcardib Gurl how are you even able to grab the baby with these nails?"
"How does cardi b change kulture's diaper with her long a** nails ??????" yet another asked.
One more tweeted, "I just want to know how @iamcardib changes Kulture's diapers with those nails. These are the thoughts that keep me up at night. I need answers."
But the reactions are not all bad. One Twitter user posted a quick exchange between Perez Hilton and Ivy Queen and said, "Perez Hilton told cardi b she should take her nails off to change her daughter and IVY QUEEN commented defending her saying it's fine we stan legends supporting legends."
Others just wanted to know how the rapper maintains her nails as a mother, because they might need to know for themselves in the future. One fan tweeted, "Okay, I wanna how @iamcardib copes with motherhood with those nails!!!! 😱 Please tell me, I don't wanna get rid of mine 😂." Another chimed in, "I want Cardi B to teach me how she changes nappies with those nails😳."
Others made it clear they weren't judging Cardi B, they were just curious how the new mom manages to change Kulture's diapers with her chosen nail accessories. "Zero judgment here whatsoever," one person tweeted, "just complete curiosity.... how does Cardi B change a diaper with those nails?! I need to know."
If Cardi B chooses to keep her long nails as a mother, that's totally her prerogative. She might find that it's easier to take care of Kulture without them, or she might figure out how to do everyday mommy tasks just fine with long, bedazzled nails. In the end, it's really no one else's business.