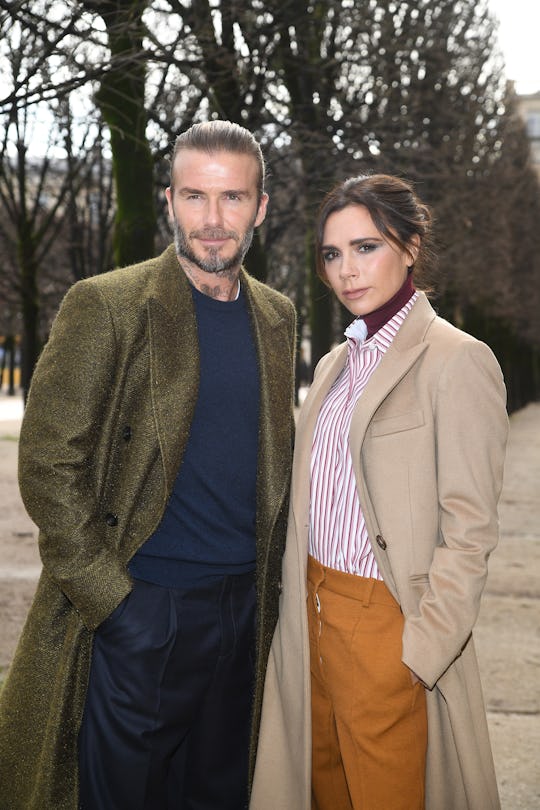 Pascal Le Segretain/Getty Images Entertainment/Getty Images
David & Victoria Beckham Threw Their Daughter The *Best* Birthday Party... With A Pony — PHOTOS
Let me preface the envy-laced article you are about to read by saying I understand it's not OK to be jealous of a 7-year-old child. Especially if you're a grown-up lady. But it's not like Harper Seven Beckham (that's right, her actual middle name is the number seven) is your average kid. And it's not like her recent birthday party was your average party. After scrolling through photos of David and Victoria Beckham's birthday party for now 7-year-old Harper, I think you'll probably be jealous too. Especially if you're into ponies and cups of English tea, which you obviously are.
Harper is the youngest child of "Posh Spice" (and fashion designer) Victoria Beckham and her husband, soccer player David Beckham. The couple, who have been married for 19 years, have three older sons. There's 19-year-old Brooklyn, 15-year-old Romeo, and 13-year-old Cruz, according to The Sun. When the Beckham family welcomed daughter Harper on July 10, 2011, she became the first and only girl in the brood. And honestly, it looks like a pretty sweet gig to me. Being the adored baby sister and little girl of the rest of the preternaturally perfect Beckham clan. No wonder the kid looks happy. She seems to have the whole family wrapped around her finger, and wouldn't that be amazing?
Before the big party got underway, both David and Victoria Beckham took to Instagram with birthday messages for their little girl. David wrote:
What can I say about my little princess other than she is perfect in every possible way. Harper Seven has turned 7. Happy birthday to my big girl!! This little one is so loved by her brothers, mummy and daddy...special, special little girl ♥️ Makes me smile every single day ♥️
Victoria Beckham shared a series of photos of the birthday girl including one with her unicorn cake and the caption:
Can't believe our baby is 7 today!!! X Time goes so quickly xxxx Love u @davidbeckham x
Harper's older brothers even took to social media with their own messages to their sweet little sister, according to People, with oldest brother Brooklyn writing; "Happy birthday, Harper. Love you." Accompanied by a picture of some pink roller skates that one can only assume Harper received for her birthday.
Yes, I'm still very jealous.
Brother Romeo shared a picture of himself with his sister and the super adorable caption:
I can't believe you are 7 now Harper!! Such a big girl ❤ we all love u so so much I couldn't ask for a better sister !! Love u so so much hope you have a lovely day ❤
As for the birthday party, think pink extravagance with just a hint of refined British elegance. Pink and silver balloons, of course, and a few selfies with Harper's famous dad that he shared on Instagram Stories.
And, of course, Harper got to ride a pony and look stylish in her riding gear. Who among us wasn't desperate for a pony as a child, I ask you?
Then there were roses and more balloons and sunshine and cupcakes and tea. And probably scones or something, too.
According to Victoria Beckham, Harper's favorite presents were a whole big pile of Squishies, the latest toy that every kid covets.
Harper might have loved the Squishies, but she was showing a whole lot of love to her parents, too. Which makes me think she's a nice kid and makes me think I shouldn't be jealous of a small child just because she got to ride a pony for her birthday.
At the end of the day, I have to admit it's just nice to see a cute kid having a killer birthday party that seems like it would work well as an episode of Downton Abbey. This makes me happy. And not jealous at all.