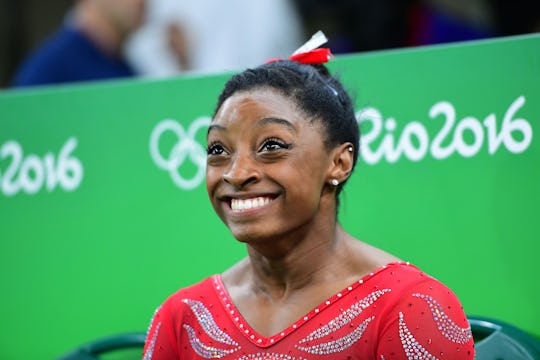 EMMANUEL DUNAND/AFP/Getty Images
Photos Of Simone Biles, Nellie Biles & Family Show The Gymnast Has Great Cheerleaders
If you don't know her by now, you should. Simone Biles, the three-time gymnastics world champion, is being widely hailed as the best gymnast of all time. Naturally, spectators all over the world have become curious about the life story of this gymnastics prodigy—and one of the best parts of learning about the Olympian is viewing photos of Simone Biles, Nellie Biles, and their family, which are both adorable and inspirational.
Biles' family was in the headlines this week after NBC's Al Trautwig referred to Biles' parents as her grandparents during NBC's primetime gymnastics coverage on Sunday. When someone on Twitter corrected his semantics, pointing out that Biles' 'grandparents' are actually her mom and dad, Trautwig Tweeted: "They may be mom and dad but they are NOT her parents." This comment instigated a backlash, and Trautwig has subsequently apologized for his mean-spirited, now-deleted Tweet. "To set the record straight, Ron and Nellie are Simone's parents," he said in a statement, according to USA Today.
The story behind Trautwig's insensitive blunder is that Biles, along with her younger sister Adria, were adopted by their grandparents when Simone was three and Adria was one, according to Reuters. Their mother struggled with addiction and was unable to take care of her four children—Biles' older brothers were adopted by their great-aunt. Simone and her sister moved in with Ron Biles, their maternal grandfather, and Nellie, Ron's wife.
Given how young Biles was at the time of her adoption, she refers to Ron and Nellie as mom and dad — it's pretty much a given. "It never affected or bothered me because I was so young, so I don't remember anything... It's all I've ever known," Biles told Reuters.
Indeed, the Biles family is extraordinarily close-knit, in part because of Ron and Nellie's experience with growing to love their daughters under initially difficult circumstances. "It wasn't an easy transition because they didn't have any connection to me and I didn't have any connection to them," Nellie told Reuters about the adoption. "Over time you take your barriers down and that goes both ways... Me taking my barriers down, and the children taking their barriers down, and before you know it there is unconditional love..."
That unconditional love is abundantly apparent on the Biles family's Instagram accounts, which are packed with family photos and videos (between, of course, gymnastics photos). This cute Mother's Day clip of Simone and Nellie from Simone's account is captioned with, "Happy Mothers Day to the worlds most amazing, thoughtful, sassy and cutest mom... I love you momma Biles."
And Simone didn't forget her mom's birthday, either; this photo is accompanied with the sweet words, "Happy birthday to the queen of the house and the best mom a girl could ever ask for... I love you the mostest Momma Biles! Despite what Adria says":
Despite this little jab at her younger sister Adria, the two are close, to say the least. Simone recently posted this photo of herself and Adria, who is also a gymnast. "The greatest gift our parents ever gave us was each other," Simone wrote.
"I love you more than puppies and french fries," is the caption of this recent photo of the sisters at Adria's account (we can presume that Adria loves French fries A LOT):
This older photo of Simone, Adria, and Ron Biles was posted in honor of Father's Day: "Happy Father's Day... thanks for always protecting me, I love you!" Simone wrote.
Even Nellie is part of the Instagram love-fest. Her account is exclusively family photos, including this holiday one of the four siblings. "My beautiful kids," Nellie wrote.
Nellie and Simone's special relationship has been a part of Simone's rise to her current superstar status. In an interview with NBC, Simone said that she used to be "so hard on myself," but her mom helped her change her attitude. "She [Nellie] is like, 'You know, just go out there and be the best Simone you can be. You don't have to compete against anybody. It's just you and yourself out there.'"
Comments on this 2013 Instagram photo of Nellie and Simone at a gymnastics apparel photo shoot are prophetic: Many wrote about Simone's chances of making it to Rio. "I really think Simone will make the 2016 Rio USA Olympic gymnastics team. She is amazing! Thank you for cheering her on," one commenter wrote.
And if everyone's predictions come true, Nellie will be cheering Simone on... straight to a gold medal.