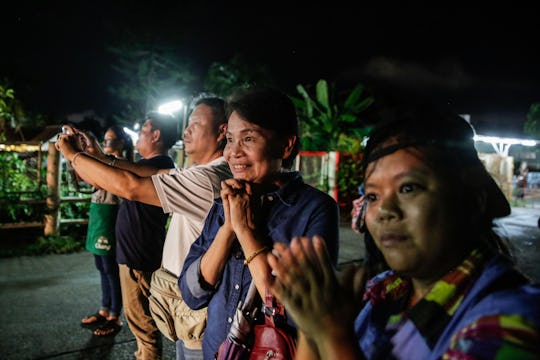 Lauren DeCicca/Getty Images News/Getty Images
Photos Of Operations To Rescue 12 Boys & Their Coach Trapped Inside A Thai Cave Are Remarkable
After being trapped deep inside a cave in northern Thailand for two weeks, numerous news outlet reported on Sunday that four of the 12 young boys and their soccer coach have now been rescued. The mission could go on for days, according to officials, but photos of the Thailand cave rescue will have you on the edge of your seats and bring you to tears. Seriously, grab some tissues because it's an amazing, international story about people from all around the world coming together and working tirelessly to get them all out safely.
According to The New York Times, the boys went missing on June 23 with their 25-year-old soccer coach. The team of 12 boys had gone biking out to the cave, but because of rising waters caused by rain, they apparently couldn't get out, The New York Times reported. On July 2, they were found alive and in decent health, according to the BBC.
Since then, literally hundreds of rescue workers have been working around the clock to find alternate exits and escape routes for them, bringing them food, and even running an internet cable to the cave so that they could talk to their parents, according to NBC News. Rescue workers pumped water out of the caves to preserve an air pocket for the group, the news outlet reported.
This is the rainy season in Thailand, and officials first thought it might take months to get them out, according to The New York Times. But because of flooding conditions, officials decided that the rescue mission had to start immediately. As reported by The New York Times, Thai Navy SEAL commander, Rear Adm. Arpakorn Yookongkaew, said in a statement on Friday, "At first we thought that we could sustain the kids' lives for a long time where they are now, but now, many things have changed. We have a limited amount of time."
Rescue divers taught all of the boys, aged 11 to 16 years old, the basics of cave diving this week so that they could get out, according to CBS News, which also reported that the boys were selected to be rescued from the cave based on their health conditions. An infographic released by the Thai government noted that two experienced divers will accompany each boy on the way out. According to Al Jazeera, there are about 90 rescue divers working to get the boys and their coach out, half of them Thai and the other half from all over the world. They'll have to walk along a stretch of cave with a rope and at some points, the sections are so narrow that they will have to remove their oxygen tanks. It's a very advanced skill even for experts, let alone 12 boys and a soccer coach with no diving experience at all.
On Sunday, July 8, four boys were removed from the cave and transported via ambulance to a local hospital, all reportedly in good condition, according to CBS News. With all that said, one could only anticipate that the photos of the mission so far have been truly remarkable.
Workers Have Been Preparing All Week
One Rescue Worker Died Trying To Get Air To The Boys
Former Thai Navy SEAL Saman Gunan lost consciousness and died on Thursday after delivering air tanks to the boys, according to the BBC. His death was a catalyst for moving up the mission — as previously mentioned, officials originally thought they could keep the boys and their coach alive for four months until water levels went down low enough to walk them out.
As reported by CNN, Thai Navy SEAL chief Rear Adm. Aphakorn Yoo-kongkaew said oxygen levels in the cave had dropped to 15 percent, which can lead to hypoxia, which also causes altitude sickness. According to CNN, he said on Friday:
We can no longer wait for all conditions (to be ready) because of the oppressive situation. We originally thought the young boys could stay safe inside the cave for quite a long time but circumstances have changed. We have limited amount of time.
Gunan's tragic death is evidence that getting all of the boys out safely was and is going to be a heroic act.
On Sunday, Ambulances Picked Up 4 Rescued Boys
Nurses Waited For Them At The Hospital
And Onlookers Waited For More News
According to The Guardian, the boys were brought out on stretchers from the caves. Sunday's rescue mission was a success, but unfortunately the team had to stop after just the four boys. As reported by The Guardian, Osatanakorn, the official leading the mission, said in a press conference:
Today was the best situation — in terms of kids' health, water and our rescue readiness. Four have been [brought] out from the cave site, four have been rescued. We consider that a great success.
He added, according to The Guardian, "Our job is not completely done. We will have to do the next mission as successfully as the one we did today. The rest of the kids are in the same spot." Air tanks have to be refilled and more "systems have to be put in place again," Osatanakorn said, according to The Guardian. He added that they would begin again in 10 to 20 hours, but no more than that. Barring any more flooding, the remaining boys and their coach are expected to all be out in a few days.
It's really amazing to see so many people from all around the world come together to help find the team, keep them alive over the past week, and work to get them out on Sunday and, hopefully, in the coming days.