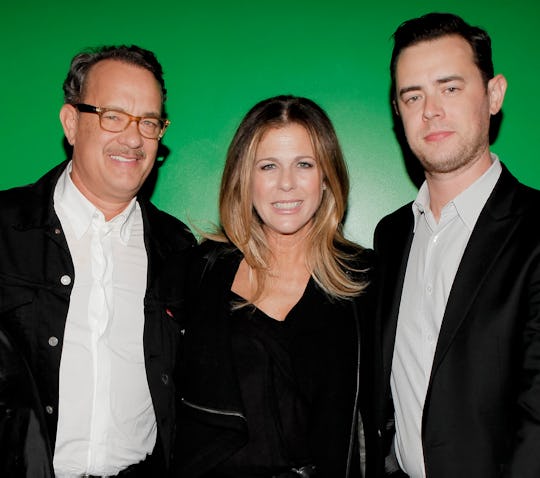 Tibrina Hobson/WireImage/Getty Images
Tom Hanks Is Obviously Everyone's Favorite Dad In These Sweet Photos With His Kids
Tom Hanks is one of those men who comes across as such a dad that a person can be forgiven for wanting to be his child. Particularly after his Oscar-nominated role playing Fred Rogers in A Beautiful Day In The Neighborhood, when he went full-on father figure. Who wouldn't want to be his kid, right? After all, these photos of Tom Hanks with his kids showcase that he really loves being a dad just as much as his fans might have hoped.
Hanks is father to four children. He shares 42-year old son Colin with ex-wife Samantha Lewes as well as 37-year-old daughter Elizabeth. Hanks had two more children with wife Rita Wilson, 29-year-old son Chet, and 24-year-old Truman.
However, fans who watched Hanks accept the Cecil B. DeMille lifetime achievement at the Golden Globes last month might remember that he referenced five children in his speech when he said, "A man is blessed. A man is blessed with a family sitting down front like that. A wife who is fantastic in every way, who has taught me what love is. Five kids who are braver and stronger and wiser than their old man is." Apparently, the Forrest Gump actor is such a loving, inclusive father that he counts Colin's wife, Samantha Bryant, mother to two of his grandchildren as one of his own, as People reported.
Beyond that simply wonderful fact, here's what you else you may appreciate knowing about Tom Hanks as a dad.