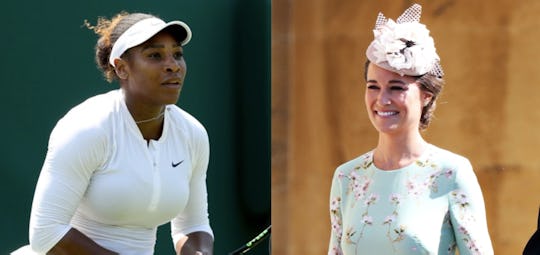 Chris Jackson/Getty Images Entertainment/Getty Images/ Matthew Stockman/Getty Images Sport/Getty Images
Sounds Like Serena Williams Might Be Pippa Middleton's Fitness Guru During Her Pregnancy
It's quite obvious, but 2018 has been a very exciting year from the royal family and those close to them. Not only did Prince William and Kate Middleton welcome their third child in April, but just months after rumors broke that the Duchess of Cambridge's younger sister was pregnant, Pippa herself confirmed the news that she and husband, James Matthews, are expecting their first child. She's not an open book about pregnancy, but over the weekend Pippa Middleton revealed how Serena Williams has inspired her throughout her pregnancy. Because really, who isn't inspired by Serena Williams?
Pippa is a columnist for the U.K. supermarket, Waitrose, and its monthly publication, Waitrose Kitchen, according to People. And in her column this month, Pippa revealed how she plans on staying fit and active throughout her pregnancy — citing the phenomenal (and recently pregnant) tennis player, Serena Williams, as her inspiration throughout her pregnancy.
While some women might opt to go on walks throughout their pregnancy or go to the gym to stay active, Pippa revealed in her column that she plans on playing tennis throughout her pregnancy — hence why Williams is such an inspiration to her. "I've been a tennis fan since childhood, as a player and a spectator, and have been keen to continue playing safely throughout my pregnancy," Pippa wrote, according to People.
Pippa continued, as People reported, detailing how she plans on emulating her inner Williams and how others can do the same:
Take Serena Williams. She famously proved that women can play a high level of tennis from two months up to eight months. Few of us can relate to this elite excellence, but if you're a healthy, well-trained tennis player with an uncomplicated pregnancy, there's no reason why you can't continue a good level of tennis.
As you might recall, Williams famously played tennis (and won) during the 2017 Australian Open while she was eight weeks pregnant, according to The Guardian, which she revealed months after the fact. Even during her last trimester, Williams was posting videos of her playing tennis to her Instagram, proving that her pregnancy wasn't going to hold her back from staying active and doing what she loved. Because Williams documented this on her social media accounts, other women could look to her for ways to stay active during their own pregnancy, just like Pippa did.
In early June, Pippa confirmed her pregnancy in her Waitrose Kitchen column, according to People, where she opened up to readers about how she stayed active during her first and second trimesters. "I was lucky to pass the 12-week scan without suffering from morning sickness," Pippa wrote, according to People. "That meant I was able to carry on as normal." Pippa continued to talk about her workout routine, writing, according to People:
When I learned the happy news that I was pregnant, I realized I needed to adjust my four to five-day-a-week routine. I've noticed my body change, but through exercise, I feel it's being strengthened.
It's awesome that Pippa feels this way — and if other women can be inspired by Pippa's own story, just like she was inspired by Williams, then that is even better. It sounds like the affection for the Middleton family (well, at least Kate) has been returned by Williams. In a new interview with In Style, Williams revealed that she thinks Kate Middleton is a "bada**." Who knows, maybe Williams will share her admiration for Pippa now?
Staying active during pregnancy is important, according to the U.S. Department of Health and Human Services. By maintaining a level of activity, pregnant women can ensure a more comfortable pregnancy. Pippa's tips for an active pregnancy can help other women out there looking to do this same.