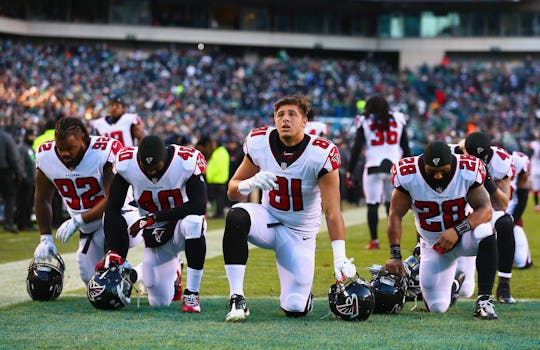 Mitchell Leff/Getty Images Sport/Getty Images
Players Don't Take The Knee At The Super Bowl & It Actually Isn't That Surprising
Politics have always been engrained into just about everything out there, even though it isn't always obvious. And for a few months now, football has been entrenched in an ongoing controversy surrounding players kneeling during the National Anthem. So as players don't take a knee during the 2018 Super Bowl, even more people are watching and taking notice.
In case you've missed the thousands of headlines surrounding the issue, several players in the National Football League started kneeling during the National Anthem as a form of protest against police brutality and racial injustice. The movement has been championed by former San Francisco 49ers quarterback, Colin Kaepernick, who was not signed for another year and has been reported as being blackballed in the NFL for his political protests.
So now, as there are only two NFL teams left standing this season — the New England Patriots and the Philadelphia Eagles — many have been wondering whether or not any of the players will take a knee during the National Anthem as a way of sending solidarity to those players who started the movement. However, the fact that no players kneeled isn't too surprising, considering the fact that neither the Patriots or the Eagles have been very involved in the protests all season.
Even though there was no kneeling during Pink's rendition of the National Anthem, players for the Patriots did all have their hands on each other's shoulders during the song, while the Eagles did not. Perhaps this suggests the team's concession.
While the kneeling gained international attention during the regular NFL season, with President Donald Trump getting involved, players not kneeling at Sunday night's Super Bowl is, again, fairly expected. As CNN reported,
Several New England Patriots players took part that first weekend after the president's incendiary comments, but haven't kneeled since.
Philadelphia Eagles cornerback Ron Brooks kneeled during preseason games but was released by the team in August. Throughout the season, some Eagles players raised their fists during the Anthem but all had stopped doing so by the playoffs.
But, that doesn't mean that people weren't talking about it plenty before the big game. As a pretty big conversation point surrounding Super Bowl LII, NBC, who will be broadcasting the game, has already confirmed that if any players kneeled, they'd be showing it. "When you're doing a live event, you just cover what's happening," NBC Executive Producer Fred Gaudelli told CNNMoney. So, as players didn't end up taking a knee or raising a fist in protest during Pink's rendition of the National Anthem, the world watched with mixed reactions.
After all, when the President of the United States decides to personally get involved and calls any player kneeling a "son of a b*tch," then it's pretty clear that things are about to get real serious, real fast.
But, despite the players not kneeling, there is also another protest going on during the Super Bowl, although it's certainly not as high-profile as what the players do. According to the website, SportingNews.com, "starting Saturday and culminating Sunday afternoon at U.S. Bank Stadium will be the Take a Knee Conference and Rally."
Obviously, the event is centered around the same politics as the NFL players taking a knee was, but the rally will be a little less publicized. After all, having the event and the Super Bowl in Minnesota is kind of a remarkable coincidence. As SportingNews.com reported, one of the most notable cases of police brutality took place "in Falcon Heights, Minn. On July 6, 2016, Philando Castile was shot to death in his car by an officer, his death caught on video that went viral the next day (and which Kaepernick, among other athletes and celebrities, reacted to online)." So, the fact that no players at Sunday's Super Bowl decided to take the knee in Minneapolis is somewhat symbolic.
Check out Romper's new video series, Bearing The Motherload, where disagreeing parents from different sides of an issue sit down with a mediator and talk about how to support (and not judge) each other's parenting perspectives. New episodes air Mondays on Facebook.