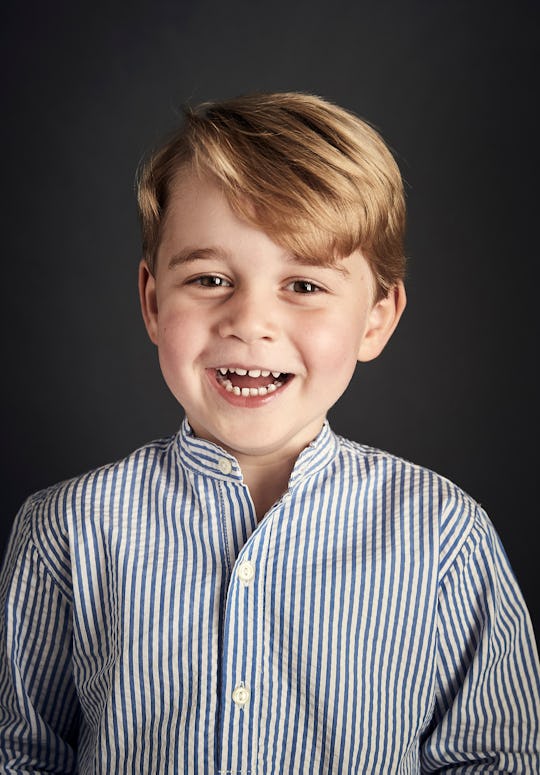 Handout/Getty Images Entertainment/Getty Images
This Secret Prince William & Kate Middleton Keep From Prince George Makes Total Sense
As anyone who follows the British royal family knows, Prince George is the oldest child of Kate Middleton and Prince William, and as such, he is in line to take the "throne" as King one day. But apparently, he's not totally aware of that fact. In fact, it seems like Prince George doesn't know he's in line to the throne, but his parents have some very wise reasoning behind keeping this "secret."
Prince George turned 5 on Sunday, July 22, and Kensington Palace released a photograph of Prince George to mark the occasion, and the Royal Mint issued a new £5 coin to celebrate. The Royal Mint reportedly released coins for his first and second birthdays as well, and for his christening in 2013. Talk about some fancy birthday presents.
But for all these fancy ways that special occasions for Prince George are celebrated, the little boy supposedly doesn't know the significance of any of it. Apparently, Middleton and Prince William have reportedly decided to keep the truth of Prince George's future role from him for now, according to The Sun.
In a previous interview, Prince William said, according to The Daily Mirror, "There'll be a time and a place to bring George up and understand how he fits in, in the world."
As part of William & Catherine: A Family Portrait, Gill Knappett wrote, according to The Daily Express, "Like his father did, Prince George is enjoying as normal an upbringing as possible, with two parents determined to let him have as much privacy has possible."
In an attempt to protect his privacy and keep things as normal as possible, Middleton and Prince William have chosen to keep the big secret of his royal role from their son George as much as they can, according to news.com.au. But with Prince George now attending school, keeping it from him may be more difficult in the near future, the outlet pointed out.
Even as Prince George's daily life circumstances with being in the public eye thanks to his schooling have changed, this attitude towards his upbringing and his future role isn't new. Catherine Mayer, the author of Charles: The Heart of a King, told E! News in 2015:
With George they are trying to delay that moment of realization and give him normality before they thrust this on him. But it will be, nevertheless, part of his upbringing both in terms of what he sees his parents and grandparents doing and probably quite soon a beginning of an understanding that he is in public life and what that means.
And it might be that Prince William and Middleton have to think more about how to handle the revelation the older their first child gets.
Middleton and Prince William have two other children to think about when it comes to maintaining a normal versus royal life. Princess Charlotte, who is 3 according to Harper's Bazaar, and baby Prince Louis will also be raised somewhat in the public eye thanks to their roles as children in the royal family, but they likely won't face the same pressure and scrutiny that their older brother will as heir to the throne.
And besides, Princess Charlotte at least already seems a little more savvy in dealing with things like paparazzi and public outings as a little princess. She's been caught poking her tongue out on the way to Prince Harry and Meghan Markle's wedding, and has been seen waving at cameras and the public in the past, according to Hello! magazine. She clearly understands that cameras follow her and her family around, even if she may not understand why just yet.
It seems like it's a very wise decision on the part of Middleton and Prince William to try to keep their kids lives as normal as possible, even though they're royal children with the eyes of the world on them. Every kid deserves a regular, happy childhood, and hopefully, not dealing with the pressures of one day being a king for as long as possible will help Prince George achieve just that.