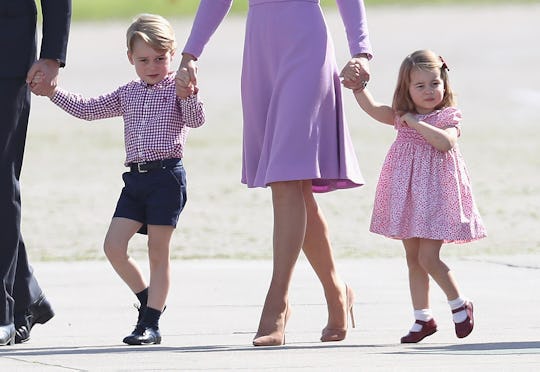 Chris Jackson/Getty Images Entertainment/Getty Images
Sounds Like Prince George Is A Typical Big Brother With Princess Charlotte Now
Ah, siblings. For parents of more than one kid, the struggle that is sibling relationships is something they deal with on a daily basis. It seems like one minute, siblings can be the best of friends. They wake up in the morning and greet each other with hugs. As you're making breakfast, they're playing together nicely — and all is well with the world. The very next minute? Blood-curdling screams ensue over who gets to play with a toy and suddenly, you're breaking up a hitting match like a bouncer in a nightclub. (Please, please tell me it's not just my kids who are like this.) Even if your kiddos get along fairly well most of the time, their relationship through the years can ebb and flow just like any other. And it sounds like Prince George is basically your typical big brother now that he's 5 years old and becoming more and more independent as he gets older.
As you might have read in recent headlines, Prince George — the eldest child of Prince William and Kate Middleton — celebrated his fifth birthday on July 22. Per tradition, Kensington Palace released an official portrait of the birthday boy to mark the occasion. "The Duke and Duchess of Cambridge are very pleased to share a new photograph of Prince George to mark his fifth birthday — thank you everyone for your lovely messages," the royal family wrote, alongside a precious photo of the young prince sporting an enormous grin.
*Sigh* He looks so grown up now, doesn't he? With this maturing, inevitably comes an increased desire for independence. And apparently, Prince George is "very independent now and not as interested in playing with Charlotte all the time," a source recently told People. "They are close, but George likes to go off and do his own thing."
Of course, Prince George's growing independence from his little sister might also have something to do with the fact that they seem to have very different personalities. Fans have witnessed Princess Charlotte enthusiastically waving to crowds at recent royal events — like at the royal wedding between Prince Harry and Meghan Markle, for example, and as she and her brother were arriving at St. Mary's Hospital to meet their baby brother, Prince Louis, for the very first time.
Prince George, on the other hand, tends to be more reserved during such events. In the case of the royal wedding in May, he was totally over it all by the time he and his family were on the steps of St. George's Chapel following the ceremony. Case and point: He was photographed trying to hide behind his father, Prince William, according to Metro.
With that said, according to the insider who recently spoke to People, Prince George can be quite the talkative kid after he gets to know someone. "George takes a little while to warm up, but once he's comfortable with you, he's very chatty and charming," the source told People.
Despite their differences in personality, perhaps Prince George just needs some time to himself every once in a while — and away from the reported "bossiness" of his little sister. As the Daily Mail reported, Queen Elizabeth II made this revealing comment about the sibling's relationship back in January, as she was present a Bible to a schoolgirl. While doing so, the Queen asked the girl if she "looked after" her little sister, according to the publication. The girl's mother reportedly replied, that it was actually "the other way around." To that, Queen Elizabeth replied, "It's like that with Charlotte and George."
When it comes down to it, news that Prince George isn't as interested in playing with his little sister sounds pretty typical to me. My oldest will be turning 7 soon — and he has a younger sister who is 4 1/2. From my experience, an older brother wanting time away from his younger siblings is par for the course. Because of their age difference, they don't always want to do the same things. Plus, just like any other human being, spending too much time with another person gets annoying after a certain point. So I wouldn't take Prince George's rejection to heart, Princess Charlotte. He's only doing what he knows best — being a finicky big brother.