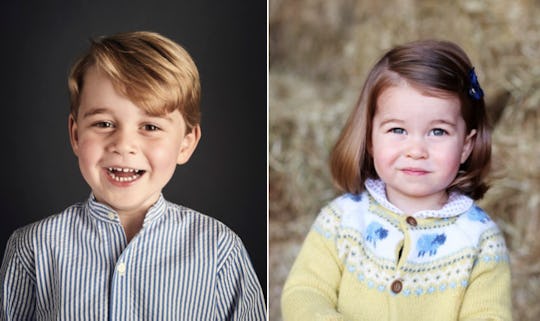 Handout/Getty Images Entertainment/Getty Images
You Probably Missed This Detail Behind Prince George & Princess Charlotte's Birthday Portraits
Sure, we already know that little Prince George of England can be a bit shy while his little sister Princess Charlotte tends to be more of a ham with the media. And we also know that they're both absolutely adored by their doting parents, Prince William and Kate Middleton (and don't forget new baby bro Prince Louis). But there's an intriguing variation in how the two oldest royal Cambridge kids' birthdays are celebrated with the public. You probably missed it, but there's one pretty big difference between Prince George and Princess Charlotte's birthday portraits and how they're captured.
Prince George and Princess Charlotte are no stranger to cameras, that's for sure. Since he was born, the adorable now 5-year-old Prince George has been photographed every which way: his christening, his first day of preschool, his first day of "big kid" school," and he always has the cutest, toothy grin (except when he's feeling a big shy and doesn't want to smile, in which case, he'll snuggle into daddy's shoulder).
Meanwhile, 3-year-old Princess Charlotte has also had her whole life publicly documented, from her debut to the world in front of the London hospital where she was born to her recent start at nursery school. But, as is often typical with second-borns (and certainly true in my house), she is a bit less serious. She's been snapped sticking out her tongue at the recent royal wedding, as Town & Country reported, and generally being a kid who appreciates a bit of silly and a bit of sass.
So while they're out in public, the two royal kiddos are photographed in the same ways, though they handle the spotlight a bit differently. But as the photos released around each of the siblings' birthdays show, there is actually a key difference between how those special portraits have been taken.
As Good Housekeeping reported, a careful examination of royal photographic patterns shows that Prince George's birthday snaps are always seemingly "official" portraits, taken by a professional photographer. For his fifth birthday on Sunday, July 22, the royal family shared a photo taken by photographer Matt Porteous, who took the image right after he shot Prince Louis' christening, as Kensington Palace shared on Twitter. Meanwhile, Princess Charlotte's birthday images are generally shots taken by her mum, aka Duchess Kate.
Here Are Prince George's Most Recent Birthday Portraits...
... And Princess Charlotte's, Both Taken By Duchess Kate
Now, before we go making too much of this, it should be noted that the royal family has not shared why this is the case. And while it's an interesting factoid, it's nothing to freak out over, of course. It's simply interesting. But for you conspiracy theorists, there could be some reasoning behind the fact that Prince George's images tend to be by well-known professional photographers (including Mario Testino, who shoots for Vogue). As AOL pointed out, he is, after all, the future King of England, the first of his siblings in line to the throne and just behind his father, making him third in line. Princess Charlotte is just after him in the line of succession, which could explain the home-grown photography. Again, that's a very, very big could.
Whatever the case may be, Duchess Kate is quite the amateur photog and has a real eye for capturing a moment. Just a perusal of her recent shots will show you that. In fact, her snaps aren't much different than the professional variety and the first portrait of Princess Charlotte and Prince George (below) was taken by her. (Hey, she can come shoot my family any time, we really need some new photos.)
According to the Daily Mail, not only does Duchess Kate boast a genuine interest in photography, her talent behind a lens also seems to her showing the world that the royal family can be modern and financially-prudent by taking photos themselves on some occasions. "It shows how modern Kate and William are by being more accessible and having a hands on-approach," U.K. baby photography expert Gina Jones explained to the Daily Mail. "It also shows that they are resourceful with money as you often see Kate in high street fashion and sometimes repeating outfits and so by taking her own photos this again shows how she is savvy with money."
Whether or not Duchess Kate is trying to "prove" anything to the public with her hobby or whatever the reason is behind Prince George and Princess Charlotte's birthday portraits, you really can't complain that the world is getting the double pleasure of beautiful professional photographs from well-known masters and fab amateur efforts from the future queen for some time to come.