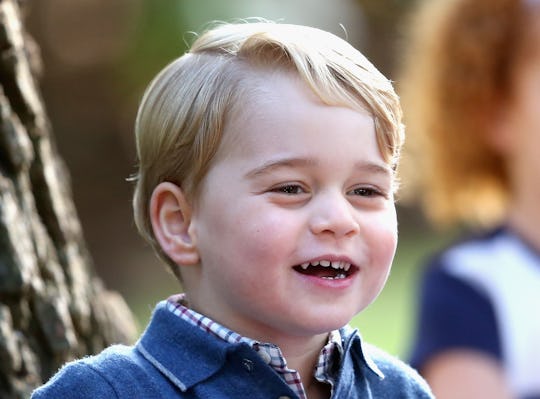 Chris Jackson/Getty Images Entertainment/Getty Images
Prince George Got His First Gift Ahead Of His 5th Birthday, But It Probably Wasn't On His List
Prince George is about to turn 5 years old, and here is why this is awesome; he's going to be the star of the show. Let's face it, the kid has been going through a bit of a moment lately, what with his 3-year-old spicy sister Princess Charlotte forever upstaging him with her sass and her waving. Plus he has a new baby brother at home which can feel daunting for a kid his age. Fortunately, his birthday is coming and it's already looking like a great time. Prince George's first official birthday present ahead of turning 5 might not be what every kid dreams of, but it's pretty bad*ss in a You'll appreciate this when you're older kind of way.
The oldest son of Prince William and Kate Middleton, the Duke and Duchess of Cambridge, will turn 5 on Sunday, July 22. He is third in line to the throne, after his dad and his grandfather, Prince Charles. He has become famous the world over not just because of his role as a potential future King of England, but also because he's just a really sweet, adorable little boy. What does one get such a divine little creature for turning 5, you ask?
A big old coin, according to People, that's what.
The Royal Mint announced that a limited edition £5 (or around $6.50) commemorative coin to be sold to the public in honor of Prince George turning 5. The coin features the prince's namesake Saint George, patron saint of England and legendary slayer of dragons, according to OK! Magazine.
As legend has it, according to Hello! Magazine, Saint George was a knight who saved the people of England from a fierce dragon by first taming it and then slaying the dragon. It's that whole good vs. evil story that everyone loves, and now Prince George will have a special coin inexorably tying him to a dragon slayer. This all feels very Game of Thrones to me.
The Royal Mint explained why it was designing a commemorative coin for Prince George on its website:
It's hard to believe it's been five years since we welcomed His Royal Highness Prince George of Cambridge into the world. Adorably mischievous, he has captured the hearts of people all over the world, stealing the show wherever he goes. From royal tours with his parents to starting his first day at primary school, he has shown us glimpses of his lively personality and growing interests. Now a big brother to two siblings, Prince George of Cambridge's fifth birthday falls in a year already full of family celebrations.
Not that we need any extra reasons to celebrate Prince George, a little boy who wears short pants every day and also once wore the best bathrobe ever to shake hands with President Obama.
The commemorative coin in honor of Prince George's birthday also comes embossed with the year 2018 as its part of an annual set of coins following the Progress of a Prince, according to People. If you want to celebrate the fifth birthday of the young prince, get ready for a wee bit of sticker shock. The limited edition coins might be worth £5, but they are being sold on the Royal Mint website for £82.50 per coin. Plus, if you think you want one you might want to get on ordering it right away as only 7,000 were made.
Personally, I hope Prince George gets other presents for his birthday, and that they aren't all of the commemorative variety. I hope he gets some fire trucks, since his dad once said he's pretty obsessed with them, according to Hello! Magazine. I also hope he gets some sort of delicious birthday cake and piles of pizza and just a whole day to play and goof off.
But I'm sure he'll love his special coin, too. When he's a grown up, maybe.