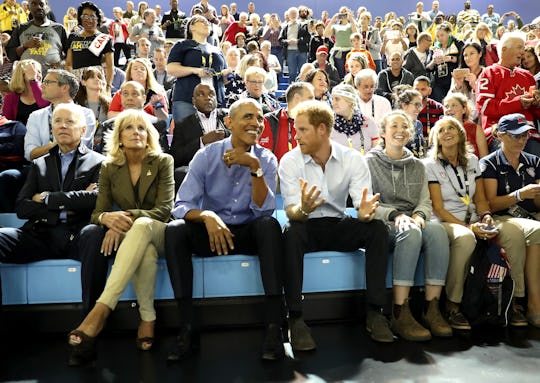 Chris Jackson/Getty Images Entertainment/Getty Images
Prince Harry, Joe Biden, & Obama At The Invictus Games Are Total Squad Goals
Prince Harry has been having one fun week at the Invictus Games, the sports competition that he founded three years ago that spotlights wounded and injured service members. He's been in the stands every day cheering people on, but this weekend might have been the best ever. Once you see Prince Harry, Joe Biden, and President Obama hanging out at the Invictus Games in Toronto you will definitely be crazy jealous.
Harry's had a busy week. First, he and his girlfriend Meghan Markle made a somewhat public appearance together. Then, he met Melania Trump. Later in the week, he bonded with an adorable toddler who tried to steal his popcorn. But from the look on his face with Joe and Jill Biden, along with Obama, makes it clear that it was the highlight for him, too.
It makes sense that the three men (plus Jill) would get along. The bromance between Obama and Biden is well, and hilariously, documented. Likewise, Obama and Harry have already hung out at Kensington Palace together, so it was just a matter of time before they all came together. And to cheer on wounded veterans and current service members, no less. Sort of makes you wistful for another time, huh?
Check These Guys Out
Are They Ragging On Biden?
Or Trump?
Here's The Whole Gang
The Bidens Were There All Week
They Are Totally Into It
Last Year, Jill Bonded With Harry, Too
At last year's games in Orlando, Florida, the Obama administration stole the show, too. Just in a different way. Although the Bidens were able to make it in person, the Michelle and Barack sent a video message to Harry. They basically talked sh*t to the prince. "Hey, Prince Harry. Remember when you told us to bring it at the Invictus Games?" the first lady asked in the video. Obama then added, "Careful what you wish for." In response, Harry and Queen Elizabeth drop the mic and roll their eyes.
This isn't the first time that Obama and Harry have hung out since he's been out of office. In May, Obama visited the palace, where they talked about helping veterans and empowering youth. Seriously: Talk about a power squad. (Especially when you factor in Michelle, Jill, and possibly Meghan Markle. Just think of what they could all accomplish.)
Obama took some time off from public service after Trump's inauguration and traveled around the world. He spent some time with Richard Branson and chilling with Oprah Winfrey and Bruce Springsteen on a yacht. But he's recently been more active on social media and commenting on current events and politics. When Trump announced that he would be rolling back the Deferred Action for Childhood Arrivals Program, Obama slammed the decision in a statement, writing:
Ultimately, this is about basic decency. This is about whether we are a people who kick hopeful young strivers out of America, or whether we treat them the way we'd want our own kids to be treated. It's about who we are as a people — and who we want to be.
In the wake of the hurricanes in Houston and Florida, Obama pledged his support. As the Trump administration was being criticized for its response to Hurricane Maria in Puerto Rico, Obama stepped up, offering to donate money from his foundation and made a video message with Presidents Clinton, Carter, and both Bush's.
Although Obama isn't an elected official any longer, it can be comforting to Americans to see him out and about, hanging with other foreign leaders and standing up for what he believes in. The future might be uncertain. But if Barack, Joe, and Harry are keeping in touch, who could be all that worried?
Check out Romper's new video series, Romper's Doula Diaries:
Check out the entire Romper's Doula Diaries series and other videos on Facebook and the Bustle app across Apple TV, Roku, and Amazon Fire TV.