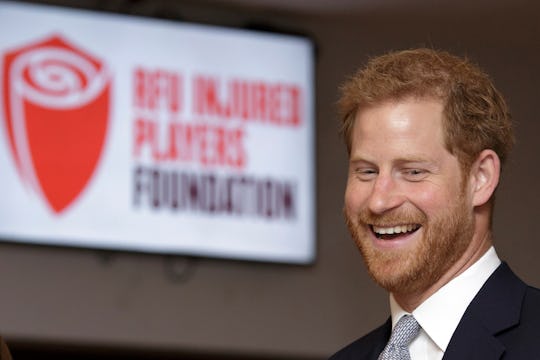 WPA Pool/Getty Images Entertainment/Getty Images
Prince Harry Broke Royal Protocol In Amsterdam & We Love Him For It
It can be hard to separate Princess Diana's kids from her legacy, but sometimes it works out, and the two actually go hand-in-hand quite nicely. On Monday, Prince Harry began a two-day visit to Amsterdam, where he attended the 22nd International AIDS Conference. And while he was there, Prince Harry may have broken royal protocol while meeting kids. But it was for a very good reason.
At the conference, Prince Harry met with young advocates from his Sentebale charity's Let Youth Lead program, according to POPSUGAR. He also took part in a Facebook discussion about the experiences of young people living with HIV. Prince Harry also talked about the benefits of getting young people involved with policy changes and in spreading information, alongside discussing the issues teenagers who have HIV deal with, according to People.
Harry founded Sentebale, which means "forget me not," in Lesotho in honor of Diana, ABC News reported. And the Let Youth Lead program offers young people an opportunity to have a public voice when it comes to the issue of AIDS and how it impacts them.
The appearances Harry made during his trip to Amsterdam definitely reminded people of the work Princess Diana used to do for AIDS awareness advocacy. And during the trip, something he did on Tuesday while meeting with kids may have actually broken royal protocol.
On the second day of the AIDS Conference in Amsterdam, Prince Harry appeared with Sir Elton John to launch the MenStar Coalition, a global partnership focused on "researching and halting male transmission of HIV infections, with the goal of ending AIDS by 2030," according to USA Today. He praised the work of Sir Elton John, who has been a family friend for a long time and who once worked with Harry's late mother, Princess Diana, on AIDS awareness and prevention, Entertainment Tonight reported.
Prince Harry said of Sir Elton John during the appearance, according to ABC News:
I am honored to be sharing the stage with someone who has always put people at the center of his work, Sir Elton John. For over a quarter century, Elton has worked tirelessly to fund research and services in communities around the world. And today, he has come to Amsterdam to announce his latest endeavor, a billion dollar global partnership to break the cycle of male transmission of HIV, particularly in sub-Saharan Africa.
And it was during this particular appearance that Prince Harry broke royal protocol.
Prince Harry reportedly offered hugs to a few of the kids who came up on stage during the event, according to POPSUGAR. When meeting any member of the royal family, the protocol is for men to do a neck bow (from the head) and for women to do a small curtsy, according to the royal family's website.
However, this rule has definitely been disregarded before. Kate Middleton, the Duchess of Cambridge, has hugged children in the past, Cosmopolitan reported in February. The outlet also noted that Prince Harry himself has broken this rule before, like when he's hugged basketball players at the Invictus Games, or when he and former first lady Michelle Obama hugged onstage.
The fight against HIV/AIDS clearly means a lot to Prince Harry, just as it did to his mother. In fact, back in 1987, Princess Diana helped open the United Kingdom's first dedicated HIV/AIDS unit at a London hospital, according to USA Today. She also famously shook the hand of an AIDS patient without gloves, when there was so much stigma surrounding the act.
Since this is a cause that's near and dear to him, I think it's safe to say Prince Harry should get a pass for hugging children at an event focused on helping kids who are dealing with HIV and AIDS, royal protocol or not.