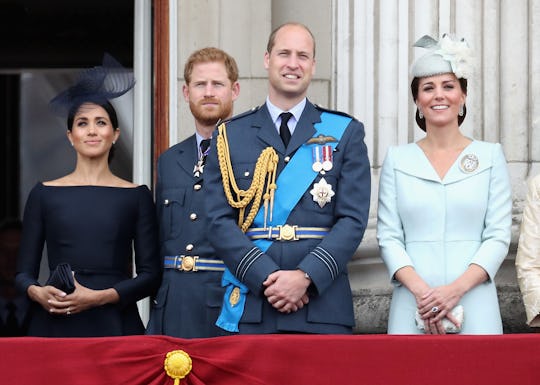 Chris Jackson/Getty Images Entertainment/Getty Images
Kate Middleton Is Apparently Prince Harry's 'Mentor' & It's Adorable
There was a time in the not-so-distant past when Prince Harry was everyone's favorite third wheel to his brother Prince William and his sister-in-law Kate Middleton. As a confirmed bachelor for many years, Prince Harry was frequently seen alongside the Duke and Duchess of Cambridge when the three were on royal duty, and honestly it always looked like he was having a pretty great time of it. Sure, now he's married to Meghan Markle and gloriously happy, but it seems something was cemented for him during those years. Prince Harry reportedly considers Kate Middleton a "mentor," and sought her approval when he was marrying Meghan Markle.
Prince Harry and Kate Middleton have known each other the better part of two decades. While she didn't marry Prince William until 2011, she was dating him for nearly 10 years before they set a date. And according to a 2017 article in Newsweek, Prince Harry looked up to her almost immediately as someone he could really admire and respect, which was especially important to him after he lost his mother Princess Diana in a tragic car accident in 1997. Fortunately for Prince Harry, "Kate has helped fill some of the gap," left behind when he lost his mother, according to Newsweek. When she and Prince William got engaged, Kate Middleton moved into his apartment at Kensington Palace where Prince Harry would "often pop in and she would cook him a meal." Roast chicken is apparently one of his favorites.
It makes sense that Prince Harry would seek out her approval when he and Markle started to get serious in 2016. The two had only been dating for around four months when Prince Harry brought former actress Meghan Markle to meet his brother, sister-in-law, and their two children Prince George and Princess Charlotte in November 2016 (they have since welcomed Prince Louis into the family as well). According to royal expert Katie Nicholl, Middleton's approval was very important to the prince. She told Grazia UK:
Harry and Kate are very close, she's been like a mentor to him and he wanted her seal of approval. Kate is different to Meghan in many ways, but she has made great strides to help Meghan settle in.
Happily, Kate Middleton seems to have taken a quick liking to Meghan Markle, which makes everyone happy. The two share loads in common, of course; they are both fashion icons, both devoted to charitable works, and both in love with the princes of England. When Markle and Prince Harry announced their engagement in November 2017, Middleton said, according to People:
William and I are absolutely thrilled. It's such exciting news. It's a really happy time for any couple and we wish them all the best and hope they enjoy this happy moment.
For her part, Middleton is apparently more than happy to welcome Markle to the family. Nicholl wrote in Grazia UK, according to Elle; "Friends say that she is thrilled that the spotlight isn't on her at a time when she wants to enjoy being with her family and remain relatively low-key."
The two women did look to be pretty comfortable with each other when they hit Wimbledon together earlier this month.
While it's great that Kate Middleton seems to approve of Meghan Markle, I think the bigger story here is that a man in a position of power like Prince Harry apparently looks to a strong woman like his sister-in-law for advice. He married a feminist in Markle, and this just proves to me that Prince Harry has an innate sense of respect for the women in his life. I feel like it bodes well for their marriage.
Although I have to admit... sometimes I miss Prince Harry, professional third wheel.