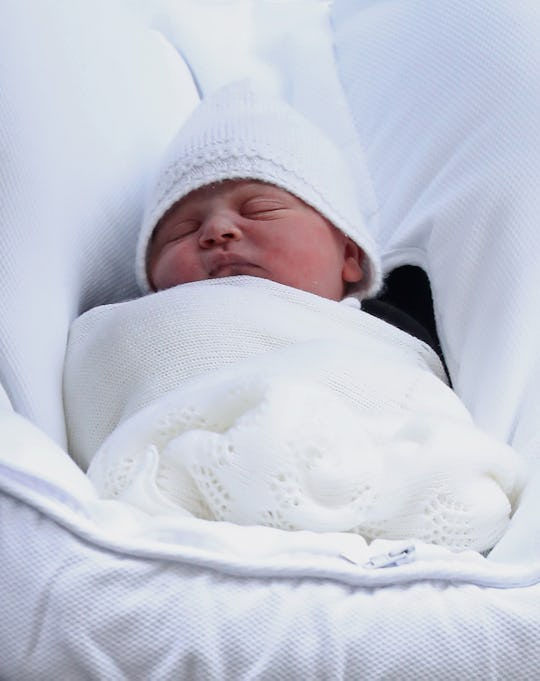 Chris Jackson/Getty Images Entertainment/Getty Images
All 6 Of Prince Louis' God Parents Have Finally Been Revealed
It's a big day for the Duke and Duchess of Cambridge: their third child, Prince Louis, is set to be christened at The Chapel Royal at St James's Palace Monday afternoon. Just as it was for his siblings before him, the event will mark the first time the young prince has appeared out in public since his birth, and there's no question that royal watchers will be waiting eagerly to see him. But it will also be a big day for six members of the duke and duchess' inner circle, too. Prince Louis' godparents have been revealed by Kensington Palace ahead of the christening, and while Meghan Markle, the newly-minuted Duchess of Sussex, unfortunately wasn't on the list, Prince William and Kate have chosen some of their nearest and dearest friends to hold a special role in their youngest son's life.
In an update given on Monday, Kensington Palace confirmed some of the important details of the royal event, including the exclusive guest list. In addition to the prince, his parents, and his big brother, Prince George, and sister, Princess Charlotte, both sets of grandparents — Prince Charles and Camilla, the Duchess of Cornwall, as well as Carole and Michael Middleton — will be in attendance. But Prince Louis will actually be drawing a bigger crowd than his siblings did: though he missed out on Princess Charlotte's christening in July 2015, Prince Harry will be there Monday, along with his wife, Meghan, and though both of Kate's siblings, Pippa and James will be attending as usual, this time, Pippa will be joined by her husband, James Matthews, whom she married in May 2017 (the couple will be welcoming their first child together later this year).
In addition to the standard list of family members, Prince Louis' six godparents will also be at the ceremony, along with their spouses. As they did with Prince George and Princess Charlotte, William and Kate stuck primarily with their close friends when it came to choosing godparents for Louis, though one of Kate's cousins also made the cut. And given the intimate nature of the role, it's not exactly surprising that, at this point, some of the names are pretty familiar.
One of Prince Louis' godparents, for example, is Nicholas van Cutsem, a close friend of Prince William, and someone whose family has long had royal ties. Most recently, his daughter, Florence van Cutsem, served as one of the young bridesmaids at Prince Harry and Meghan's wedding, and his brother, William van Cutsem, was named as one of Prince George's godparents in 2013, according to Harper's Bazaar (William's daughter, Grace van Cutsem, was also a bridesmaid at Prince William and Kate's 2011 wedding). This time around, the duke and duchess also asked their long-time friends Guy Pelly (aka the owner of the royal-loved London nightclub Mahiki) and Harry Aubrey-Fletcher (Prince William's Eton College classmate, and son of Sir Henry Aubrey-Fletcher, the 8th Baronet and Lord Lieutenant of Buckinghamshire, according to The Sun), to step in for their son as well.
If, on the other hand, Prince Louis finds himself in need of some female guidance, he also has three great options. For one, there's Lady Laura Meade, the daughter of Prince Charles' friend, the Earl of Romney, according to The Sun, who is also married to James Meade, another of Prince William's Eton friends, and one of Princess Charlotte's godparents. Then there's Kate's Marlborough College bestie Hannah Gillingham — formally referred to as "Mrs. Robert Carter" by Kensington Palace — and finally, Lucy Middleton, the Duchess of Cambridge's first cousin.
In addition to being a pretty big day on a personal level for the royal family though, as well as for those they've asked to be godparents, Prince Louis' christening will actually mark the first time that the public will have a chance to see the Cambridges as a family of five. Although Prince George and Princess Charlotte have been since out with their parents a number of times since April, young Prince Louis has always stayed home.
But unfortunately for the infant prince, there will be two important royals who won't be sitting for his christening portraits. Queen Elizabeth II and her husband, the Duke of Edinburgh, won't actually attend Prince Louis' christening, according to People, but it doesn't sound like there will be any hard feelings: the arrangement is said to have been "mutually agreed upon" in advance, and is likely due to the Queen's busy schedule. For one, the 92-year-old monarch is scheduled to attend a Westminster Abbey service in London Tuesday to mark the 100th anniversary of the Royal Air Force, before hosting a high-profile visit with President Donald Trump at Windsor Castle Friday.
While the ceremony itself won't be public, it will at least be exciting to see the duke and duchess arrive at The Chapel Royal with all three of their children in tow for the very first time. And for the six individuals who have been hand-picked by the royal couple as Prince Louis' godparents? There's no question it will be a day they won't forget.